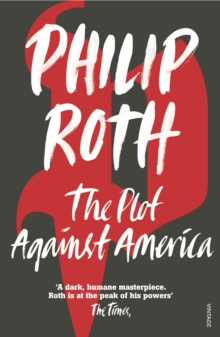 The Plot Against America
Paperback
Description
When the renowned aviation hero and rabid isolationist Charles A.
Lindbergh defeated Franklin Roosevelt by a landslide inthe1940 presidential election, fear invaded every Jewish household in America.
Not only had Lindbergh publicly blamed the Jews for pushing America towards a pointless war with Nazi Germany, but, upon taking office as the 33rd president of the United States, he negotiated a cordial 'understanding' with Adolf Hitler.
What then followed in America is the historical setting for this startling new novel by Pulitzer-prize winner Philip Roth, who recounts what it was like for his Newark family during the menacing years of the Lindbergh presidency, when American citizens who happened to be Jews had every reason to expect the worst.
Information
Format: Paperback
Pages: 400 pages
Publisher: Vintage Publishing
Publication Date: 01/10/2005
ISBN: 9780099478560
Free Home Delivery
on all orders
Pick up orders
from local bookshops
Reviews
Showing 1 - 5 of 6 reviews.
Previous | Next
Review by prof_brazen_guff
16/06/2015
I was waiting to read this for a long time, and yet again Roth didn't disappoint. By presenting an alternative history of a fascist America during World War 2, Roth exposes the fascistic leanings in American society which exist even to this day, tendencies which make his version of history look chillingly plausible.
Review by jaygheiser
16/06/2015
Initially gripping, a good read, but the end falls a bit flat. Alternative history novel in which Lindbergh defeats Roosevelt in the 1940 presidential election, resulting in a national flirtation with fascism, all witnessed thru the eyes of a young Jewish boy.
Review by firebird013
16/06/2015
Amusing and entirely plausible account of a fascist take over in the USA just at the start of WW2. It is seen through the eyes of Philip Roth himself, with the understanding of a six year old! A delightful fantasy - with a real bite in it, that makes you think. There but for fortune . . .Read it!
Review by whirled
16/06/2015
Once again, Philip Roth explores an intriguing premise: what if isolationist and rumoured anti-Semite Charles Lindbergh had beaten Roosevelt in the 1940 US presidential election? He speculates with powerful insight about an America which is slowly, subtly becoming more hostile towards its Jewish citizens. What a pity Roth's formidable skills seem to desert him in the last chapter, which may as well have been, "And then I woke up, and it was all OK after all. What a nutty dream that was!"Having Roth's nine-year-old fictionalised "self" as a narrator is a mixed blessing. He gives his younger self far too much credit in terms of his understanding of current events, the political climate and adult relationships (young Philip's conflicted feelings about his neighbour Seldon are much more believable). On the plus side, the narrator's youth means that <i>The Plot Against America</i> is less phallocentric than much of Roth's work, with just one masturbation scene, one description of an erect penis and virtually none of his usual sex/gender role guff.
Review by pokarekareana
16/06/2015
America in 1940, and the anti-Semitic Charles Lindbergh is sworn in as the new US president as American society is gripped by isolationist fervour in response to the war in Europe. Roth is a small boy and witnesses his family, part of a tight-knit Jewish community in New Jersey, torn apart in the aftermath. As their situation deteriorates, unthinkable events turn their lives upside down.This was such an easy and such a painful book to read. Easy, because it is so well-written and the narrative perspective is very clever; casting a child as the narrator magnifies the sense of bemusement for a community that did not expect to become the target of state-sanctioned racism. The plot took a long time to reach its boiling point, which worked very well because I wasn't sure if I was just being drawn into a sense of Jewish paranoia, or if there really were anti-Semitic forces at work in government. I've never been a particular fan of 'alternative-history' books, but I thought this was very well executed, and I would highly recommend it.