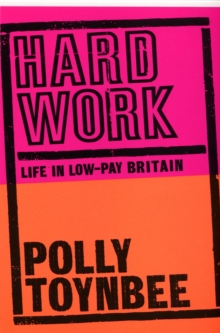 Hard Work : Life in Low-pay Britain
Paperback
Description
'A passionately reasoned and compelling account of the avoidable cruelties still embedded in the underside of British life - by a writer who has literally worn the clothes, lived in the flats and done the jobs of the poor.
Every member of the cabinet should be required to read it, apologise and then act'. - Will Hutton. A frank and breathtaking book, this is journalist and broadcaster Polly Toynbee's account of her courageous intention to live and work on the minimum wage.
The 'decent living' wage set by the Council of Europe is set at GBP7.39.
The minimum wage in Britain is currently GBP4.10 per hour. And often, people are working for less, their voices unheard, their faces unnoticed.
The low-paid are caught in an economic double bind that victimises them and shames the rest of us.
Toynbee took whatever jobs she could find, often offered for less than the official minimum wage.Living on an estate in Clapham, she started from scratch and found that if she were truly unemployed, she would not even be able to afford a new job, and that faced with starvation, it's impossible not to sink into debt. In this powerful and compelling book, Polly Toynbee journeys to the inside of Britain today and uncovers that world which is invisible to most.
This is a damning portrait of social justice in Britain.
Information
Format: Paperback
Pages: 256 pages
Publisher: Bloomsbury Publishing PLC
Publication Date: 14/01/2003
Category: Poverty & unemployment
ISBN: 9780747564157
Free Home Delivery
on all orders
Pick up orders
from local bookshops
Reviews
Showing 1 - 2 of 2 reviews.
Review by elmyra
16/06/2015
An eye opener. Compassionate, engaging, well written.
Review by elliepotten
16/06/2015
A passionately expressed and extensively researched study by journalist Polly Toynbee, into the lives of the poor end of society that everyone else, on the whole, would rather not have to think about.For the sake of social experiment, Toynbee moves into one of the poorest and most destitute council estates in London and sets about attempting to live on the minimum wage, scraping by just like her neighbours and colleagues. From furnishing her flat at minimum cost from a local charity project, to surviving on less than ten pounds' worth of food for a fortnight, she aims to live authentically, taking on a variety of low-paid manual jobs, including a care home assistant, hospital porter, school cook and nursery nurse, to pay her way.Despite her admirable goal (and a fairly admirable achievement), Toynbee never really makes her study as authentic as the blurb suggests. She doesn't actually utilise benefits services, instead paying large donations for their cooperation. She still flits back to her 'old life' as a journalist from time to time, to her nice house, when things get a bit dire. Some of the most profound moments actually stem from this, showing the difference in her two sets of wages, and the reactions of the benefit agencies to her hypothetical concerns. This is definitely a worthwhile read, but sadly lacks grit and tails off to a disappointingly political and long-winded conclusion. Could have been done better.