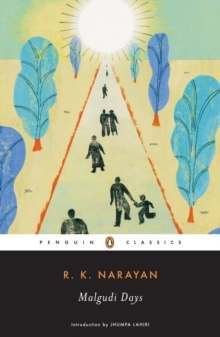 Malgudi Daysrom Lawley Road; And Also Including Eight Additional Stories
Paperback
Description
Introducing this collection of stories, R. K. Narayan describes how in India 'the writer has only to look out of the window to pick up a character and thereby a story'.
Malgudi Days is the marvellous result. Here Narayan portrays an astrologer, a snake-charmer, a postman, a vendor of pies and chappatis - all kinds of people, drawn in full colour and endearing domestic detail. And under his magician's touch the whole imaginary city of Malgudi springs to life, revealing the essence of India and of human experience.
Information
Format: Paperback
Pages: 264 pages
Publisher: Penguin Books Ltd
Publication Date: 01/09/2006
ISBN: 9780143039655
Free Home Delivery
on all orders
Pick up orders
from local bookshops
Reviews
Showing 1 - 5 of 5 reviews.
Review by shefukul
16/06/2015
I simply love these stories. So lucid, simple and takes you to the heart of India.
Review by leenags
16/06/2015
No one has captured the essence of rural India like R.K. Narayan and Maligudi Days is a glittering example. Each story stands out for its simplicity, innocence and Indianness. A must and a thorougly enjoyable read. The TV series of the same name has done complete justice to the original book.
Review by Edith1
16/06/2015
Sweet collection of short stories set in a small South Indian town. A highlight for me was the story about the Astrologer.
Review by jwhenderson
16/06/2015
Malgudi Days, written by R.K Narayan, chronicles the lives of people in the fictional town of Malgudi. The stories, which share the lives of everyone from entrepreneurs to beggars, all take place in and near this Indian village. Thus the heart and the soul of that village is on display and we find it is a place where most people are haunted by illiteracy and unemployment. Yet despite the ubiquity of the poor many of the stories come across with humorous good-natured episodes of their lives. Among the stories the reader meets an astrologer, a gatekeeper, and a young man yearning to pass the examinations. There are also animals including a forlorn dog who befriends a blind man and a ferocious tiger (perhaps a hint of Narayan's short novel, A Tiger for Malgudi). Above all there is a pervasive irony that reminded me of other short story stylists from O'Henry to Chekhov and Gogol. More often a character's dreams or expectations do not lead to the results he desires. This keeps the reader guessing as to what the next story will show in the lives of people who become endlessly fascinating, if only for the reason that you have met them before in your own town. In his introduction R. K. Narayan observes that "I can detect Malgudi characters even in New York: for instance, West Twenty-third Street . . possesses every element of Malgudi, with its landmarks and humanity remaining unchanged--"(p 2).Following publication of this collection, the stories in this book were made into both serials and cinema. Through these tales the author, R.K Narayan, captures the readers' heart with his journey through the village of Malgudi and its' not so unfamiliar denizens.
Review by salvadesswaran
16/06/2015
Reading these stories I realized how much India has changed, but people remain the same. Living in a suburb, I cannot relate to all the characters but there are several that I can identify. He's a true master.