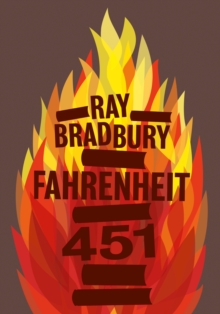 Fahrenheit 451 [Clothbound Edition]
Hardback
Description
Voyager Classics - timeless masterworks of science fiction and fantasy.
A beautiful clothbound edition of the internationally acclaimed Fahrenheit 451 - a masterwork of twentieth-century literature.
The terrifyingly prophetic novel of a post-literate future.
Guy Montag is a fireman. His job is to burn books, which are forbidden, being the source of all discord and unhappiness.
Even so, Montag is unhappy; there is discord in his marriage.
Are books hidden in his house? The Mechanical Hound of the Fire Department, armed with a lethal hypodermic, escorted by helicopters, is ready to track down those dissidents who defy society to preserve and read books.
The classic dystopian novel of a post-literate future, Fahrenheit 451 stands alongside Orwell's 1984 and Huxley's Brave New World as a prophetic account of Western civilization's enslavement by the media, drugs and conformity.
Bradbury's powerful and poetic prose combines with uncanny insight into the potential of technology to create a novel which, decades on from first publication, still has the power to dazzle and shock.
Information
Format: Hardback
Pages: 240 pages
Publisher: HarperCollins Publishers
Publication Date: 01/03/2013
Category: Classic science fiction
ISBN: 9780007491568
Free Home Delivery
on all orders
Pick up orders
from local bookshops
Reviews
Showing 1 - 5 of 7 reviews.
Previous | Next
Review by martensgirl
16/06/2015
A great book that I found as haunting and memorable as Orwell's 1984. I loved the bleak, dystopian setting, the poetic prose and the tension throughout the book. My only grumble is that the book is not long enough. I really think that the characters could have been padded out more.
Review by jmcgarry2011
16/06/2015
I read this back in high school. The idea that people would voluntarily burn books was shocking to me. That was something they did in Nazi Germany. (By the way, that's the plotline of the new movie The Book Thief.) I also noticed that there was fireproofing on the buildings, so that nothing other than the books would burn. It reminded me of the neutron bomb that was invented in the late 70s, that would kill the people but leave the buildings intact. What's the point? Anyway, this was back in the late 70s-early 80s, well before the Internet and Kindle. Today, of course, they wouldn't need to actually burn books. One well-placed computer virus could do the same thing. Anyone who knows me knows I like books. I don't want to see them destroyed. <br/><br/>Just got the 60th anniversary edition. A lot of extras added to the novel.
Review by rampart_movie
16/06/2015
excellent book. thought provoking and a scary read.
Review by renbedell
10/11/2015
Great short book that shows a realistic type world that we could be heading to. This book is rich with warning signs that you could see in our present day. It's a very interesting read. Not a book that you are going to be sucked into the story, but more of a book that will make you think.
Review by AntT
16/06/2015
Probably my favorite Bradbury book. I've read it more than once, several decades apart.