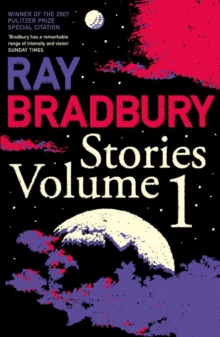 Ray Bradbury Stories Volume 1
Paperback
Description
One hundred classic stories from the celebrated author of Fahrenheit 451.
In this, the first volume of Ray Bradbury's short stories, some of the author's finest works are published together, among them 'Homecoming', 'Veldt', 'A Sound of Thunder' and 'The Long Rain'.
Join an ill-fated crew of astronauts pushed to the brink of insanity by the incessant and highly corrosive rain on Venus, a high-tech virtual reality playroom that comes to life with terrible consequences, and a safari company offering tours for the wealthy back in time to the prehistoric era to stalk and kill dinosaurs, resulting in the present they return to being irrevocably altered.
This collection is a rare treasure trove of wonder; as apprehensive about technology and the fate of humanity as it is elegiaic of its irrepressible progress.
Each story presents an enlightening and poetic facet of Bradbury's writing, every one as relevant now as when it was first written.
Information
Format: Paperback
Pages: 864 pages
Publisher: HarperCollins Publishers
Publication Date: 01/12/2008
Category: Anthologies (non-poetry)
ISBN: 9780007280476
Free Home Delivery
on all orders
Pick up orders
from local bookshops
Reviews
Showing 1 - 2 of 2 reviews.
Review by reading_fox
16/06/2015
A big collection of Ray Bradbury's short stories, very similar in feel to Clarke's "Of Time and Stars". The main theme is perhaps death. Good deaths and bad ones, alien ones and those inventive ways aliens can cause them. Some of the stories are very dated, some still feel quite reasonable as modern SF. The short series of Vampire family ones aren't SF at all, and would be perfectly at home in any modern Urban Fantasy collection, despite being written many years (decades?) before the genre was "invented". Obviously a wide range of topics are visited, Mars gets several visits - all of which have a decent atmosphere. Venus is apparently overwhealmed by vast jungles. Few of the stories contain that magical touch that the very best short story writers can inspire, leaving you thinking in wonder, however none of them are complete clunkers either. I don't think the short story is Ray's best form, certainly there is none of the lasting appeal that Farenheit 451 has. Readable, but nothing special.
Review by salimbol
16/06/2015
A rather amazing collection of stories from Bradbury, showcasing his imagination, his ability to shift tone and topics, and his fantastic use of language. (As a side note: I think I deserve a medal for accomplishing the Herculean task of getting through this nearly-1000 page tome ;-).