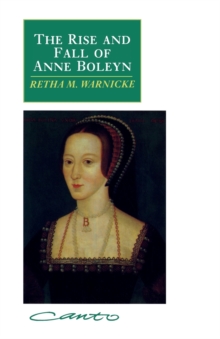 The Rise and Fall of Anne Boleyn : Family Politics at the Court of Henry VIII
Paperback
Part of the Canto series
Description
The events which led to the execution of Anne Boleyn, Henry VIII's second queen, in 1536 have traditionally been explained by historians in terms of a factional conspiracy masterminded by Henry's minister Thomas Cromwell.
Retha Warnicke's fascinating and controversial reinterpretation focuses instead on the sexual intrigues and family politics pervading the court, offering a new explanation of Anne's fall.
The picture which emerges - placing Anne's life in the context of social and religious values, and superstitions about witches and the birth of deformed children - changes our perception of her role within the court, and suggests that her execution (occurring only four months after a miscarriage) was the tragic consequence of Henry's profound concern about the continuation of the Tudor dynasty.
Information
Format: Paperback
Pages: 338 pages, 16 b/w illus.
Publisher: Cambridge University Press
Publication Date: 26/07/1991
Category: British & Irish history
ISBN: 9780521406772
Free Home Delivery
on all orders
Pick up orders
from local bookshops
Reviews
Showing 1 - 1 of 1 reviews.
Review by juglicerr
16/06/2015
Warnicke's book is interesting and worth reading, but Eric Ives' Anne Boleyn takes a very different slant on things, and I would read both, especially since Warnicke says that her purpose is not to write a full scale biography but to deal with certain issues.Warnicke and Ives are in agreement in their tendency to discount a lot of the evidence from Imperial sources as both biased and contradictory, so their conclusions differ from those of authors a decade or more before. They also have dramatic differences between them, one of the main points of disagreement being when Anne Boleyn was born. This is a very vexed subject.Beyond these interpretations, I have some issues with Warnicke myself. One might call the first philosophical: Warnicke seems to believe that people, particularly Henry VIII, have a single motive for their actions, whereas I think that people often act from mixed motives. Warnicke asserts that the only reason for Henry's desire to terminate his marriage with Catherine of Aragon was his sincere conviction that it was illegitimate. She therefore rejects interpretations of some of his actions on the grounds that it was impossible for him to be acting out of any other motive.I am not convinced by her explanation of the reasons for Anne's death. If Henry, etc., honestly thought she was a witch, why was she tried for adultery rather than witchcraft? Why not charge with adultery and witchcraft? Warnicke makes it very clear why charges of adultery and other forbidden sexual conduct would support a charge of witchcraft, but she wasn't tried as a witch. Why fabricate charges of adultery, as Warnicke thinks they did, while broadly hinting at witchcraft? The fetus that Anne miscarried is held to be evidence of witchcraft, but why advertise that and then place no charges?The book has created something of a stir, and I'd advise anyone who wants to be au courant about Anne Boleyn to read it.