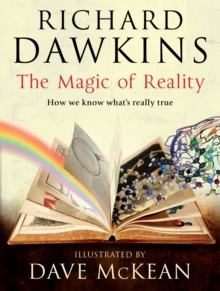 The Magic of Reality : How we know what's really true
Hardback
Description
What are things made of?What is the sun?Why is there night and day, winter and summer?Why do bad things happen?Are we alone?Throughout history people all over the world have invented stories to answer profound questions such as these.
Have you heard the tale of how the sun hatched out of an emu's egg? Or what about the great catfish that carries the world on its back?
Has anyone ever told you that earthquakes are caused by a sneezing giant?
These fantastical myths are fun - but what is the real answer to such questions?The Magic of Reality, with its explanations of space, time, evolution and more, will inspire and amaze readers of all ages - young adults, adults, children, octogenarians.
Teaming up with the renowned illustrator Dave McKean, Richard Dawkins answers all these questions and many more.
In stunning words and pictures this book presents the real story of the world around us, taking us on an enthralling journey through scientific reality, and showing that it has an awe-inspiring beauty and thrilling magic which far exceed those of the ancient myths. We encounter rainbows, our genetic ancestors, tsunamis, shooting stars, plants, animals, and an intriguing cast of characters in this extraordinary scientific voyage of discovery.
Richard Dawkins and Dave McKean have created a dazzling celebration of our planet that will entertain and inform for years to come.
Information
Format: Hardback
Pages: 272 pages, Illustrated throughout with 4 colour integrated artwork
Publisher: Transworld Publishers Ltd
Publication Date: 01/09/2011
Category: Popular science
ISBN: 9780593066126
Other Formats
Paperback from £6.85
EPUB from £5.49
CD-Audio from £14.55
Free Home Delivery
on all orders
Pick up orders
from local bookshops
Reviews
Showing 1 - 2 of 2 reviews.
Review by mbmackay
16/06/2015
The intended audience of this book is teenagers with some grounding in science. Dawkins considers a range of basic scientific issues - the Big Bang, rainbows etc. For each topic he starts with the legends, myths or religious stories that provide an "explanation" for the issue, and then follows with the actual scientific explanation. In each case he is at pains to highlight the "magic" of the real story, and how it outshines, in every sense, the myths and half-truths of religious teaching. Well done. Read January 2012.
Review by shanaqui
16/06/2015
I'm not entirely sure why I still read Dawkins' work. I think he's an extremely intelligent person, of course, and I've enjoyed reading books that focus on science by him -- I love The Ancestor's Tale, for example. But I hate the way that he cannot stop poking at religion, and I expected to hate it even more in a book called The Magic of Reality.<br/><br/>Actually, he's more respectful than usual. It all seems rather toned down, since it's aimed at a younger audience than his other books (which is somewhat insulting in itself; I read and understood The Ancestor's Tale perfectly at the age of thirteen, and this book is aimed at 'ages twelve and up', I'm told). It can come across as condescending, though I rather appreciated the parts where he admits he doesn't know everything. It is accessible, for people of any age and any level of knowledge about science, covering basic topics like why we have seasons and what earthquakes are. It's quite enjoyable to read even though I don't think I learnt anything new, because it clarified things and connected ideas.<br/><br/>He is, of course, scathing about religion and dismissive of any belief in the supernatural, but if you're planning to read Dawkins, you probably know that already.