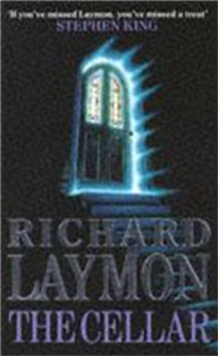 The Cellar (Beast House Chronicles, Book 1)
Paperback
Description
'If you've missed Laymon, you've missed a treat' Stephen King The deeper the tourists go into the Beast House, the darker the nightmares become.
But the worst part is beneath the haunted structure.
Don't even think about going into the cellar...
Information
Format: Paperback
Pages: 256 pages
Publisher: Headline Publishing Group
Publication Date: 15/03/1990
Category: Horror & ghost stories
ISBN: 9780747235330
Free Home Delivery
on all orders
Pick up orders
from local bookshops
Reviews
Showing 1 - 4 of 4 reviews.
Review by jewelryladypam
16/06/2015
This was a quick, engrossing read that entertained me. Definitely not a thought-provoking book but it hooked me from the first pages straight through until the end. And what a strange ending it was! I will be sure to read more of Laymon's works.
Review by enzu-chan
16/06/2015
An overused cliche plot with predictable ending even after the first few chapters. I wont recommend buying a new copy, if you really want to read it try getting it from e-bay or even better borrow it from a library.
Review by runner56
16/06/2015
very poor and a subject matter which is at best called tasteless....I decided to give Richard Laymon a read as so many recommended and I am a great fan of horror. The level of writing is very poor and I recommend you avoid at all costs!!
Review by Bridgey
16/06/2015
[The Cellar] - Richard Laymon ***I have been reading Richard Laymon books for a few years but never got around to reading the beast house series. The 'Beast House' novels are often billed as his greatest creations and the place where Laymon is at his most creative.The novel follows a mother and daughter (Donna and Sandy) as they trek across the country trying to hide from her husband who has recently been released from Jail (a term he served for molesting a young Sandy). Their journey takes them to The Beast house. A house that has seen several grisly murders over the years and is now some kind of tourist attraction (despite murders having taken place within the last few months???). It is a local myth that the murders were committed by a monster, this is further enhanced by the fact there has been at least one survivor.This survivor (Larry) wants nothing more than to see the beast killed and teams up with Judgment Rucker, an all singing and dancing American tough guy. Somehow they become involved with Donna and the story develops from there.Many people have rated this book low as a result of the child abuse scenes (which are fairly graphic) but if you have read Laymon before then this is something you should come to expect. His books nearly always contain incest and paedophilia in abundance.I read my very first Laymon book around 3 years ago, it was called 'Island', and to be honest I found his risky writing a refreshing change and eagerly searched out more of his works. After having read a dozen or so I began to find the plots far too formulaic. The same story, no matter how shocking, will lose it's appeal over time. I am sure that if I had picked up 'The Cellar' as an introduction to Laymon my rating of the book would be much higher but unfortunately I found the story very predictable and therefore trudged my way through until I reached the end. From the reviews on here many people really enjoyed the book so don't let me put you off picking it up and if you are a first time reader then I am sure you will be horrified into turning each page quicker and quicker until you reach the very last one.As for me, I still have a collection of unread Laymon including the rest of the trilogy, I am unsure whether to give them a go or deposit in the nearest charity shop.