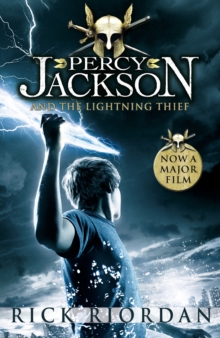 Percy Jackson And The Lightning Thief
Paperback
Description
Look, I didn't want to be a half-blood. I never asked to be the son of a Greek god. I was just a normal kid, going to school, playing basketball, skateboarding.
The usual. Until I accidentally vaporized my maths teacher. That's when things started really going wrong. Now I spend my time fighting with swords, battling monsters with my friends and generally trying to stay alive.
This is the one where Zeus, God of the Sky, thinks I've stolen his lightning bolt - and making Zeus angry is a very bad idea ...
Information
Format: Paperback
Pages: 384 pages
Publisher: Penguin Books Ltd
Publication Date: 01/12/2009
Category: Fantasy
ISBN: 9780141329994
Other Formats
Paperback from £6.55
EPUB from £4.99
eAudiobook MP3 from £5.60
Free Home Delivery
on all orders
Pick up orders
from local bookshops
Reviews
Showing 1 - 5 of 12 reviews.
Previous | Next
Review by AbundanceofBooks
16/06/2015
I. Loved. This. Book! Loved it!I was working in Kuwait and one of the librarians came back from Wales with a copy of The Lightning Thief and The Sea of Monsters. She didn't know anything about them, didn't think they looked that good, but her friend who managed a bookstore had recommended them. She handed them to me and said, "Here, you read fast, see if they're any good." Well, I thought the synopsis sounded neat, but a lot of our kids didn't know that much about Greek mythology. I was thinking it might be a hard sell.She gave it to me on Sunday (our Monday in Kuwait) and I couldn't put it down until I finished it! When I saw her the next morning all I could get out was, "This-is-so-awesome-and-the-kids-are-gonna-love-it-and-it's-great!!" About 20 minutes later students started wandering into the library. I tackled the first "reader" 5th grader to come in and recommended The Lightning Thief to him. Actually, it went more like:Me: READ IT!!Student: Huh?Me: This, you need to read this book!"Student: What's it about?Me: No questions! READ!Student: (he just looked at me)Me: Normal test drive, read the first 4 chapters and bring it back. Tell me if you liked it or not, but why. YOU"LL LOOOOVE IT!I'm very lucky that my kids are used to my...exuberance/weirdness. He came back at recess, "This book is awesome, I have to finish it!"Basically, he and I both talked so much about this book that it was checked out for the rest of the school year (we got the book after spring break).Percy is a good kid, bad things happen around him, but he tries so hard to not cause trouble. I loved the relationship he had with his mother. They obviously loved one another, and though their home situation was miserable (thanks to his stepfather Gabe), Percy and his mother took every opportunity to develop and foster their relationship. The setup of Camp Half Blood was creative, the characters well written and diverse, and the modernization of Greek Mythology was imaginative.I have seen many reviews that compare Percy Jackson to Harry Potter. Ok, yes, you'd have to be blind not to notice some similarities. But really, if we're going to be technical, both series use traditional themes and archetypes. But that's beside the point. The Lightning Thief is a fast paced, well written adventure that sucks you in. The elementary librarian part of me really liked that, in comparison to Harry Potter, there were fewer made up words, fewer characters to keep track of, and fewer subplots for students to remember. These were big points for me because I have a large population of students whose home language is not English, so that made a difference for them. However, the characters were still well written, the writing was still rich (a challenging and appropriate level for the 9-12 year old target audience), and well... I just really liked it!The Percy Jackson series has also become more of an experience for me than just a book. It's something I can recommend to students and they'll come back and talk to me about it. they're excited about the book, they want to share their ideas - the book has sucked them in, made them think, and they want to tell you about it.Verdict:Well, I think you should go out right now and read it! I know I say this a lot, but it really is a fun and imaginative book. It might not be your thing, but if you have a child (or know one) in the 9-12 year old range (but remember, my high school kids check this book out a lot, too) you should pick it up for them. It's also a good read for reluctant readers.
Review by cshupp
16/06/2015
I love this whole series. The way that the author incorporates ancient myths with current themes in children's writing is awesome.
Review by jhughes84
16/06/2015
I loved this book. I would almost say it is Harry Potterisk... with the boy finding out he is something that he didn't think existed, he goes to a special camp to train, and he goes on an adventure with his best friend and a gal-friend.... The book was amazing though, and I couldn't get through it fast enough
Review by Squeex
16/06/2015
Well, this young listener was enthralled with the book just like I was with the movie when I saw it at the show last month with Lady K. We'll be getting it on DVD when it comes out 22 Jun.On with the book...which was better than the movie and the movie was really good. Okay, back to the book. I enjoyed my time with this as an audiobook. The narrator, Jesse Bernstein, is perfect for the voice of Percy and definitely perfect for all of the evil monsters and ambiguous gods and goddesses.I've always enjoyed mythology, Greek and Roman primarily, so this is the perfect series. It refreshed my memory of the tales and is a wonderful portal for teaching the YA audience all about Zeus and Hera and the other peeps up on Mt Olympus.Percy has been tossed out of many schools as a trouble making child, failure to learn, etc. He has dyslexia and ADHD, but he finds out that it's due to the fact that he is a demi-god, aka son of a god and a human. Percy's dad is Poseidon, god of the oceans deep. Percy's mom has been protecting him from the monsters out there and the gods who would want him gone as Percy is the son of one of the Big Three and that apparently has been deemed a no-no. Percy finally discovers who he is and goes to Camp Half-Blood, where all good (and not so good) demi-gods go to strengthen their powers. And he is sent on the quest to find the lightning bolt stolen from Zeus. He goes with his buddy and protector, Grover the satyr, and Annabeth, daughter of Athena, on a major league roadtrip to prove his innocence, get the bolt of lightning and save the world. I liked watching Percy grow into his powers and realize his intelligence. He had to work through plenty of trials and tribulations to get to the endgame and it was a fun ride the whole way through for me to listen to. I look forward to getting more of the series from RecordedBooks. Five mythology is way cool beans.....
Review by lucimonk
16/06/2015
I used this book with my 5th grade gifted class and our study of Greek mythology. We all loved it! I even continued on with the series on my own when we had finished. Most of the kids did as well. Great read for kids that are into mythology or like the Harry Potter type books.