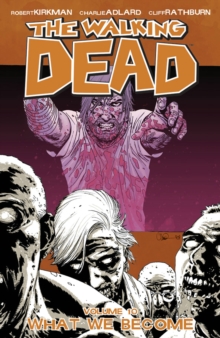 The Walking Dead : What We Become v. 10
Paperback
Information
Format: Paperback
Pages: 136 pages, chiefly Illustrations
Publisher: Image Comics
Publication Date: 12/08/2009
Category: Comics and Graphic Novels
ISBN: 9781607060758
Free Home Delivery
on all orders
Pick up orders
from local bookshops
Reviews
Showing 1 - 5 of 9 reviews.
Previous | Next
Review by stephmo
16/06/2015
Once the initial survival is over and the faint glimmer of rebuilding civilization as it once was fades, there comes the reality of what the new world has to look like. The luxuries of debate and the time to wait out tough situations to sample various treatments or just to see if time will truly heal things has long since passed. This is the point where we now find our survivors. In this installment, Kirkman shows our survivors as they continue to cross lines while the last remnants of their old humanity hang by mere threads and what they'll see to all but snap those threads. Our survivors are tired, cranky and nerves are raw all the way around - this volume feels the every bit of it, but like the group, you feel compelled to move forward with them for that faint glimmer that Washington may hold.
Review by suzemo
16/06/2015
This volume is a little slower, more interpersonal stuff, group dynamics (and bonding) and a glimpse of some future crazy shit. <spoiler>And the return of Morgan... and his kid... sort of...</spoiler> Mostly it's just our intrepid little band gathering supplies and slowly progressing towards their goal. I still like the "new" guys.
Review by akmargie
16/06/2015
Dum-de-de-dum...this will make an awesome show if they get it right.
Review by diovival
16/06/2015
Wow. This is the best volume of <i>The Walking Dead</i> by far! It's amazing to see how some of these characters have transformed over time.
Review by AnnaAbner
16/06/2015
This volume of stories was more character-driven than plot-driven. We learned about what Abraham, Rick, and Morgan have had to do to survive in their new world, as well as the toll it's taken on their minds. Gripping stuff.