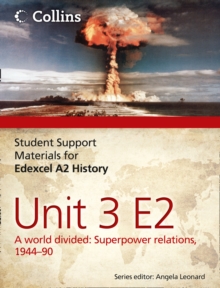 Student Support Materials for History : Edexcel A2 Unit 3 Option E2: A World Divided: Superpower Relations, 1944-90
Paperback
Description
Enable students to succeed in their exam with Superpower Relations.
This study aid contains the key information that students need for Edexcel History A2 Unit 3 Option E2, clearly laid out with Examiners' and Essential notes.
Also included are graded essays with full comments from experienced examiners on how to secure higher grades.
A world divided: Superpower relations, 1944-90 covers all the content and skills your students will need for their Edexcel A2 Unit 3 Option E2 examination, including: * Chapter 1: CONTROVERSY A: WHY DID THE COLD WAR BETWEEN THE SUPERPOWERS EMERGE IN THE YEARS TO 1953?Including - The origins of the Cold War 1917-44; early stages of the Cold War, 1945-9; Stalinisation in Eastern Europe, 1945-53; Korean War, 1950-3; critical assessment of the key interpretations - ideological confrontation, great power rivalry, responsibility of the leaders, misjudgement * Chapter 2: THE POST-STALIN THAW AND THE BID FOR PEACEFUL CO-EXISTENCE Including - The USSR after Stalin; Soviet moves towards peaceful co-existence and the US response; the end of the thaw * Chapter 3: THE ARMS RACE, 1949-63 Including - Development of weapon technology and delivery systems; the 'balance of terror'; the Cuban Missile Crisis * Chapter 4: SINO-SOVIET RELATIONS, 1949-76 Including - Sino-Soviet relations, 1949-50; consolidation of the friendship, 1950-4; deterioration, 1954-8; confrontation, 1959-69; 'ping-pong' diplomacy; Sino-US relations, 1972-6 * Chapter 5: DETENTE, 1969-80 Including - The origins and features of detente; the reality and success of detente, 1973-6; critics and detente in decline; the end of detente, 1979-81 * Chapter 6: CONTROVERSY B: WHY DID THE COLD WAR COME TO AN END IN THE 1980s?Including - US foreign policy in the 1980s; weakening Soviet control over Eastern Europe; the end of the Cold War; critical assessment of the key interpretations - the role of personalities, the impact of economic factors, 'people power' in the Soviet Bloc, the moral bankruptcy of communism * Chapter 7: EXAM SKILLS * Chapter 8: QUESTIONS AND ANSWERS * Index
Information
Format: Paperback
Pages: 144 pages
Publisher: HarperCollins Publishers
Publication Date: 28/05/2012
Category: General & world history
ISBN: 9780007457441
Free Home Delivery
on all orders
Pick up orders
from local bookshops