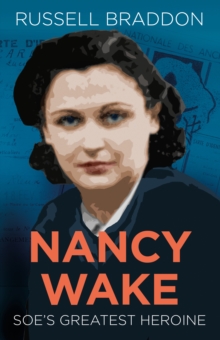 Description
Nancy Wake is one of the true heroines of the Second World War.
Born in New Zealand, she was living in Marseille and was married to Frenchman Henri Fiocca when the Germans invaded.
Nancy immediately became active in the Resistance movement, smuggling messages and food to underground groups in Southern France and helping refugees flee to Spain.
By 1943 she was on the Gestapo 'most wanted' list. Their nickname for her, due to her elusiveness, was the 'White Mouse'.
It was time for Nancy to leave France. After six escape attempts Nancy reached Britain - where she promptly became one of the thirty-nine women to join the British Special Operations Executive.
Parachuted back into France, she became the virtual leader of a 7,000-strong branch of the Maquis.
This book tells the extraordinary wartime story of this exceptional woman.
Information
Format: Paperback
Pages: 288 pages, Illustrations, maps
Publisher: The History Press Ltd
Publication Date: 19/11/2009
ISBN: 9780752454856
Free Home Delivery
on all orders
Pick up orders
from local bookshops
Reviews
Showing 1 - 2 of 2 reviews.
Review by robertgriffen
16/06/2015
A fascinating biography of a very brave and inspiring person to whom very many owe their lives. To those interested in France both Occupied and Vichy France this biography will be very interesting.
Review by labfs39
16/06/2015
Nancy Wake was a brilliant student, with a difficult home life. She ran away twice and ended up in France. At the age of 23 she met and married Henri Fiocca, a wealthy man fourteen years her senior. They led a posh life in Marseille until the war broke out, and Nancy began working for the resistance. At first, she simply helped people on the run, but she became increasingly involved as a courier and helped British airmen escape from German prisons. Eventually, however, the Gestapo began following the agent they called The White Mouse, and, Nancy's devoted husband decided that she must leave France for her own safety. This was a turning point for Nancy, because after this she was always on the run and always completely committed to the Resistance. It took her six attempts, but she finally made it out of France. Nancy became one of only thirty-nine women to join the SOE and, after some training, parachuted back into France. At one point, she was the British liaison for over 7000 Marquis. She proved to be daring, brave, and incredibly lucky. I first heard about Nancy Wake in the context of a different biography, a new one by Peter FitzSimons. However, when I looked at reviews of the two books, the older, Braddon biography received better reviews. Certainly Braddon had a leg up on FitzSimons, in that he interviewed Nancy Wake himself. He was also completely enamored with her, which may have colored his treatment of her story. Despite the potential bias, Nancy Wake was an amazing person and her story is colorful and full.