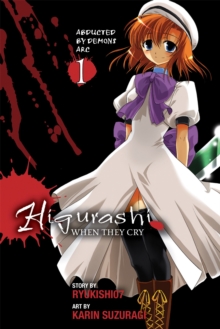 Higurashi When They Cry : Abducted by Demons Arc Vol 1
Paperback
Description
Keiichi Maebara has just moved to the very small town of Hinamizawa. He's making friends and enjoying life, until the day he learns of a grisly murder that took place in the little village. His friends won't tell him any details, which adds to his unease. At the town's yearly festival, he learns that there has been a death on that night every year for 4 years all attributed to the Curse of Oyashiro-sama, a punishment for those who supported the dam project that would have put Hinamizawa underwater. Another death occurs and a policeman asks Keiichi to help investigate what he suspects is murder. He informs Keiichi that not only is there a death every year but someone goes missing. He warns him not to tell anyone. Keiichi only becomes more suspicious, especially when he overhears someone talking with his friend Rena about how the Curse would demand 1 more person. He confronts Rena and she acts like a completely different person, accusing him of lying, as if she knows he's helping the police. As Keiichi's paranoia mounts, he learns that Rena was listening in on a phone call between him and the police officer.
Information
Format: Paperback
Pages: 192 pages, Integrated: 180, b/w drawings
Publisher: Little, Brown & Company
Publication Date: 15/01/2009
Category: Manga
ISBN: 9780759529830
Free Home Delivery
on all orders
Pick up orders
from local bookshops
Reviews
Showing 1 - 1 of 1 reviews.
Review by kpickett
16/06/2015
Keiichi moved from the big city to a tiny country town. Most teenagers would hate it, but Keiici actually enjoys the small town feel. He has only been there a short while but he has made friends with 4 attractive girls in his class. But everything changes when Keiichi finds out they are hiding something from him, a horrible secret. It turns out that this quiet town has a gruesome secret. Every year, on the day of the cotton festival, someone dies and someone goes missing. Keiichi is caught up in towns mystery now, and he has to figure out who is doing it before one of his friends is the next to go.