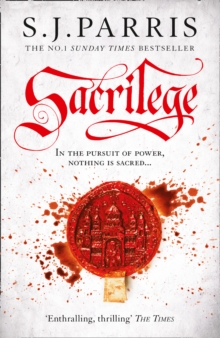 Description
Perfect for fans of C.J. Sansom and The Name of the Rose, the third historical thriller featuring Giordano Bruno, heretic, philosopher and spy.
In the pursuit of power, nothing is sacred...Summer, 1584.
The Protestant Prince William of Orange has been assassinated by a fanatical Catholic, and there are whispers that Queen Elizabeth will be next.
Fear haunts the streets of London, and plague is driving many citizens away. Giordano Bruno, radical philosopher and spy, chooses to remain, only to find that someone is following him through the city.
Confronting his stalker, he realizes it is the woman he once loved - she is on the run, having been accused of murder.
Bruno travels to Canterbury to help clear her name, and also on behalf of Sir Francis Walsingham.
The Queen's spymaster has long suspected Catholic influence in the ancient centre of pilgrimage, and instructs Bruno to work to expose any enemy plots.
As Bruno begins his hunt for the real killer, he is drawn into the heart of a sinister conspiracy hiding in the shadow of England's holiest shrine...
Information
Format: Paperback
Pages: 448 pages
Publisher: HarperCollins Publishers
Publication Date: 16/08/2012
Category: Historical mysteries
ISBN: 9780007317783
Free Home Delivery
on all orders
Pick up orders
from local bookshops
Reviews
Showing 1 - 2 of 2 reviews.
Review by freelancer_frank
16/06/2015
This is a book about power and betrayal. The first quarter reads as a rather dull fairy story, then the investigation kicks in and things pick up. The setting is over-described and the characters tend to be inconsistent or thin. There are a couple of strong set pieces and the general perspective of the presentation is intriguing. Some passages and characters borrow rather too heavily from Shardlake.
Review by john257hopper
16/06/2015
This is the third in the author's Giordano Bruno series. This time the action and the inevitable Catholic plot are centred around the precincts of Canterbury cathedral, an area which I know well, which added depth to the novel for me. The plot was rather convoluted, involving a fake miracle and the bones of St Thomas a Becket. It's colourful and absorbing and there were some interesting minor characters such as old Meg, Rebecca and Brother Anselm, but it doesn't have the impact on me of C J Sansom's novels. I think the issue for me is partly that, while Bruno is a fascinating figure in the history of religion and science, he is just not really plausible as a sleuth and spy, given that he stands out so much in Elizabethan England.