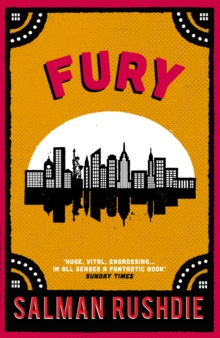 Description
From one of the world's truly great writers, Fury is a wickedly brilliant and pitch-black comedy about a middle-aged professor who finds himself in New York City in the summer of 2000.
Not since the Bombay of Midnight's Children have a time and place been so intensely and accurately captured in a novel.
Fury opens on a New York living at breakneck speed in an age of unprecedented decadence.
Malik Solanka, historian of ideas and dollmaker extraordinaire, steps out of his life one day, abandons his family without a word of explanation, and flees to New York.
There is a fury within him, and he fears that he has become dangerous to those he loves.
He arrives in New York at a time of unprecedented plenty, in the highest hour of America's wealth and power, seeking to "erase" himself.
But fury is all around him. Cab drivers spout invective. A serial killer is murdering women with a lump of concrete.
The petty spats and bone-deep resentments of the metropolis engulf him.
Meanwhile, his own thoughts, emotions and desires are also running wild.
A young woman in a D'Angelo baseball cap is in store. Also another woman, with whom he will fall in love and drawn towards a different fury, whose roots lie of the far side of the world.
Information
Format: Paperback
Pages: 272 pages
Publisher: Vintage Publishing
Publication Date: 20/09/2002
ISBN: 9780099421863
Other Formats
EPUB from £4.99
Paperback from £11.50
Free Home Delivery
on all orders
Pick up orders
from local bookshops
Reviews
Showing 1 - 1 of 1 reviews.
Review by maggieball
16/06/2015
Malik Solanka is mad. Not just irritated or cranky, but filled with fury, and not just his own fury, but the everyman fury that characterises his age. At 55, the Indian born, NY dwelling protagonist of Rushdie's latest novel Fury, has the kind of rage which causes him to stand with a knife over the sleeping bodies of his wife and son, scream in public, and slip between the red heat of anger to blackouts which leave him questioning his sanity and public safety. His anger is also part of the broader anger of the world - the human condition, which prefigures recent terrorist attacks, and hints at the kind of anger which makes anything possible. Fury is used in many contexts in this novel, which is blackly funny, engaging, easy to read, and as verbose and modern as anything Rushdie has written. Fury is everything which is evil in man - the mythical flies; ugly sisters; Erinnyes; Eumenides; vengeful wrath: Terror, strife, Lies, Vengeance, Intemperance; Altercation, Fear and Battle. They are the pursuers of Orestes, guilt, hounding those deserving of their hunger. On the simplest level, the fury is Solanka's guilt at leaving behind his 3 year old son Asmaan, who "twisted in him like a knife", his fear of his self, and anger at the unspoken act performed on him by his stepfather long ago. There is also that empty, self-loathing at the heart of a fearful but prosperous America; a land of sitcoms and shopping malls, and superficial everything, leaving a deep and unfulfilled longing. This longing, also the impetus for creation in its highest form, is also part of that fury. Then there is the broader world's fury; the fury of nations and religious fanatics fighting one another. This is the fury which Mila Milo's father flies into - the Serbias and Croatias and Fiji or Lilliput-Blefuscu as Rushdie names it, or the middle east - the anger of a taxi driver screaming obscenities in his mother tongue, or the anger and ugliness of Eddie Ford's father in Nowheresville, Nix. Tragedy; emptiness; murder for kicks, loneliness; death. This is all at the heart of Solanka's fury. While the book is as rich in linguistic skill and wordplay as any of Rushdie's material, there are some problems with Fury. The number of references are so extensive, especially the references to current pop icon figures, that the book threatens to collapse from the number of names dropped. Few cultural icons escape mention, from Al Pacino, Jennifer Lopez (multiple mentions), Puff-Daddy, N'Sync, Lord of the Rings, Butch Cassidy, Madonna, Star Wars, Gandhi, Max Headroom, Tiger Woods, The Clinton/Lewinsky scandal, the Bush and Gore election ("Gush vs Bore"), Finnegan's Wake, Robbe-Grillet, Butor, Amazon books, you name it. Piled into the novel so tightly, the ongoing references are tedious, and strain credulity, rendering the novel so heavily anchored to today, that it may become meaningless within a few years, despite the universality of the themes. In its attempt to assimilate youth culture, and pick up on all of its radio signals, while still continuing to bring together diverse themes such as the nature of academia, myth, history, political conflict, philosophy, fairy tales, children's stories, science fiction, jingles and rock and roll, Rushdie dilutes his story and makes for an overly convoluted book, where the potential richness of its substance is marred by its reliance on known names and linguistic puns.