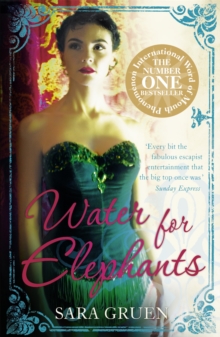 Water for Elephants
Paperback
Description
The international phenomenon - with over 10 million copies sold, made into a film with Reese Witherspoon and Robert Pattinson. ' Great story, loads of fun; hard to put down.' Stephen King The Great Depression 1929 - when Jacob Jankowski, recently orphaned and suddenly adrift, jumps onto a passing train, he enters a world of freaks, grifters, and misfits in the Benzini Brothers Most Spectacular Show on Earth a second-rate travelling circus struggling to survive making one-night stands in town after endless town. Jacob, a veterinary student who almost earned his degree, is put in charge of caring for the circus menagerie.
He meets Marlena, the beautiful young star of the equestrian act, married to August, the charismatic but twisted animal trainer.
He also meets Rosie, an elephant who seems untrainable until he discovers a way to reach her.
Water for Elephants is illuminated by a wonderful sense of time and place.
It tells a story of a love between two people that overcomes incredible odds in a world in which even love is a luxury that few can afford.
Information
Format: Paperback
Pages: 448 pages, none
Publisher: Hodder & Stoughton General Division
Publication Date: 07/02/2008
ISBN: 9780340962725
Free Home Delivery
on all orders
Pick up orders
from local bookshops
Reviews
Showing 1 - 5 of 8 reviews.
Previous | Next
Review by Booksloth
16/06/2015
I loved this book. By setting her story in the world of the circus, Sara Gruen allows all her readers to take a step back from reality. The world of Water For Elephants is a world we have all seen the edges of but a world that few of us would consider normal, so we feel a little as if we have stepped into a fairytale. However, within this strange world, the characters, including the animal ones, are realistic and convincing and their motives are ones that, in most cases, we can understand and sympathise with. Gruen has enough confidence in her characters to leave some things unsaid so that we can build our own back stories and fill in the gaps between what is explicit and what is merely hinted at. An easy read that came as something of a relief after too many 'clever' books yet was genuinely unputdownable. I started reading at teatime and stayed awake all night until I had finished.
Review by eleanor_eader
16/06/2015
I very much enjoyed this book, despite the (historically accurate) depiction of animal cruelty inherent in circus life during the great depression. The love story between the recently orphaned and uncertified vet and the wife of the violent and possessive ringmaster is fraught with enough drama not to become schmaltzy, but the real power in this book is the detail of circus life during the depression which is scarily, dustily, edge-of-oblivion accurate. I wanted to remain immersed in that world and not revisit the narrator's current time-line, where his sits in a nursing home, scared of losing his mental acuity, although this, too, is very well portrayed. I have to say, also, that this book had one of the nicest endings I'd read in a long time, which endeared it to me greatly, even though it didn't need it to be judged an excellent read.
Review by carrielatimer
16/06/2015
Complete escapism…. Loved loved loved! The author did her research well and translated it beautifully. I'm a glutton for a happy ending and closed the back cover entirely satiated.
Review by karensaville
16/06/2015
A very unusual story set in a world known to so few. In a time when entertainment was hard to come by the circus must have been a huge thing for everybody. I had never given a thought to the size of them and the logistics of getting them from town to town. I liked the fact that the narrator was an old man looking back on his life and there were so many interesting characters. This was a good start to our book club year.
Review by BoredJewel
16/06/2015
I have to say I was disappointed with the characters in this books, none of them got enough development for us to feel anything towards them, except maybe for Walter! Old Jacob was also very real as an old man, but quite depressing. Therefore I didn't really care for the romance, I just didn't feel it, and I didn't care if they ended up together or not. August as supposedly the bad character didn't make it either, I was really angry with him for being cruel to the animals, but that was it. And the little mention of a mental illness was totally useless and didn't help the story at all. I think it would have been better if we just thought he was bad and cruel. Now, the circus description was really interesting, even though I got lost a bit sometimes, but I wish there was more about it, and the other performances as well. And I love animals, and like to think their smart, but really I don't think an animal is capable of plain cold murder, kill yes, but just commit murder and act as if nothing happened, it was a bit farfetched and I think it was the author's way of getting rid of August. I also thought the author was a bit crude, I don't think I want to read more by her, but I would love to read more fiction with circus in it.