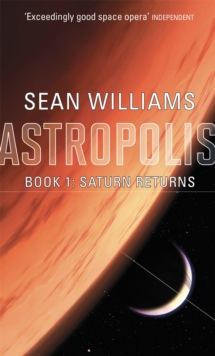 Saturn Returns : Book One of Astropolis
Paperback
Description
When former mercenary commander, Imre Bergamasc, is resurrected in the 879th Millennium, he finds that things have changed during the 150,000 years he was dead.
Following a galaxy-wide disaster known as the Slow Wave, the Continuum has collapsed, the bright galactic empire reduced to millions of disparate systems in various states of disarray.
Reunited with his old teammates - or, at least, reasonable facsimiles thereof - Imre must piece together both the fragments of his memory and the story of civilisation's fall.
But the more he digs the more suspicion dawns that the two issues are far from separate.
Was the Imre Bergamasc he no longer remembers an unwitting pawn in the fall of civilisation? Or was he, in fact, the architect?
Information
Format: Paperback
Pages: 416 pages
Publisher: Little, Brown Book Group
Publication Date: 05/06/2008
Category: Science fiction
ISBN: 9781841495194
Free Home Delivery
on all orders
Pick up orders
from local bookshops
Reviews
Showing 1 - 1 of 1 reviews.
Review by reading_fox
16/06/2015
Dark and complex. But not that enthralling.Imre Bergamasc awakeens in a body he doesn't recognise. This shouldn't really be a surprise to him - galactic technology has long long since been of the state where multiple forms of consciousness and indeed transcription of entire genomes and memories is a trivial task. But for all the eon's he's been alive / hard data, never once has he awakened female, and not without links to the Continium either. The grand data net spanning a galaxy - still limited by the speed of light, but when percieved temporal rates are adjustable at a whim, waiting 100 years for a reply isn't that difficult either. However as he slowly learns an event called the Slow Wave appears to have disconnected solar systems from each other. In an attempt to learn more he travels to what was once the base of his Corps, and gathers together the incarnations of his past teammates. But grand powers seem to afoot, although the highly evolved and fragments superbrains known as Forts have benn killed by the action of the Slow Wave there alos appear to more than the ordinary chance forces acting against humanity rebuilding itself from the fractional infighting of a decaying empire.Irne isn't particularly likeable, although as he spends most of this book slowly re-gathering his memories of what has happened in the past 150000 it's difficult to get to know him well - which doesn't help thereader appreciate the moral dilemmas he is placed in. The various incarnations of his teammates aren't much better - very very 1D characters that just accept Irne's instruction. Lots of random sex, though if you've been alone for 150000 years even at a vastly reduced temporal rate you might still be fairly desperate for some company, a few battles and a mystery teasingly half eplained to provide the hook for the next in the trilogy. The only good points is the highly inovative galactic civilisation and in particular the social concepts and adjustments to the ability to modify bith body and time. Primes, singletons, Forts, frags and gestalts are never clearly explained (although there is a glossary) but the half remembered hints do very good job of describing such a complex society. The pace is quick and the action and mystery fairly well interspersed, but the pervading dark mood, and occasional tense introspectives don't really capture the excitment that should be possible from such an empire. Alistair Reynolds does Space Opera much better, but this isn't too bad.This particular edition from Orbit comes packed with "Extras at the end" - an explanation that one of the characters speaks entirely in Gary Numan lyrics. If like me you went who? then the fact that it's at the end won't make much difference. Why? well just because William's could. There's also an exert from Stross' Singularity Sky. Why - so that we buy more books from Orbit I suppose it's got nothing to do with this story.
Also in the Astropolis series