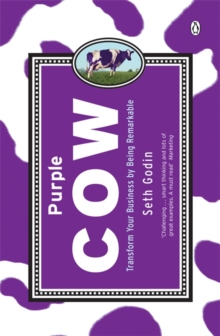 Description
You're either a Purple Cow or you're not. You're either remarkable or invisible. Make your choice. What do Apple, Starbucks, Dyson and Pret a Manger have in common?
How do they achieve spectacular growth, leaving behind former tried-and-true brands to gasp their last?
The old checklist of P's used by marketers - Pricing, Promotion, Publicity - aren't working anymore.
The golden age of advertising is over. It's time to add a new P - the Purple Cow. Purple Cow describes something phenomenal, something counterintuitive and exciting and flat-out unbelievable.
In his new bestseller, Seth Godin urges you to put a Purple Cow into everything you build, and everything you do, to create something truly noticeable.
It's a manifesto for anyone who wants to help create products and services that are worth marketing in the first place.
Free Home Delivery
on all orders
Pick up orders
from local bookshops
Reviews
Showing 1 - 2 of 2 reviews.
Readers familiar with the author's blog will feel right at home when reading this book and may indeed find some of the chapters familiar as they come directly from his blog. For the unfamiliar reader though this book might be a bit irritating as the "chapters" (of which there are many and none number more than a few pages) may seem to lack coherence. This is because they are written about different elements of a common theme and not strictly written to lead from one to the next. That said, I did enjoy reading the book (as I do most of the authors writings) and especially enjoyed the numerous case studies. The book is however best read in small doses though as the author doesn't spend a lot of time on build up but jumps right in and gets to the heart of what he wants to tell you (which sounds quite contrarian for a marketer). This is most probably because the author belives in coming up with a remarkable product/service from the get go and not trying to use spin to sell something ordinary. The book could best be described as a collection of ideas and proposals and not so much a manual of how to get from A to B. If you're looking for a guide then this is not a book for you. If you are looking for inspiration then this is a good start.
Review by wjskabelund
16/06/2015
Unique ideas that will help you stand out and get noticed.