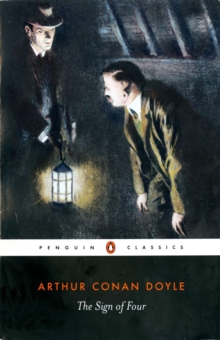 The Sign Of Four,
Paperback
Description
As a dense yellow fog swirls through the streets of London, a deep melancholy has descended on Sherlock Holmes, who sits in a cocaine-induced haze at 221B Baker Street.
His mood is only lifted by a visit from a beautiful but distressed young woman - Mary Morstan, whose father vanished ten years before.
Four years later she began to receive an exquisite gift every year: a large, lustrous pearl.
Now she has had an intriguing invitation to meet her unknown benefactor and urges Holmes and Watson to accompany her. And in the ensuing investigation - which involves a wronged woman, a stolen hoard of Indian treasure, a wooden-legged ruffian, a helpful dog and a love affair - even the jaded Holmes is moved to exclaim, 'Isn't it gorgeous!'
Information
Format: Paperback
Pages: 160 pages
Publisher: Penguin Books Ltd
Publication Date: 05/07/2001
Category: Classic crime
ISBN: 9780140439076
Other Formats
Paperback from £2.50
Hardback from £6.45
CD-Audio from £15.05
Mixed media product from £12.45
Paperback / softback from £16.55
Free Home Delivery
on all orders
Pick up orders
from local bookshops
Reviews
Showing 1 - 5 of 16 reviews.
Previous | Next
Review by Milda-TX
16/06/2015
My first Sherlock Holmes read. The characters of Holmes and Watson were more fun than I imagined they'd be! But, the story got over-long, even tho the book itself is tiny.
The Sign of Four brings in a lot of character development and description - we get to see Watson and Holmes' famous friendship (such as when they are led to a complete dead-end by a dog who has gotten on the wrong track) as well as find out more of Watson's personal history. I also quite like the narrative voice, as Watson can be quite the charmer at times, though occasionally melodramatic, an opinion with which I'm sure Sherlock would agree. The long exposition at the end, though it didn't drag nearly as much as Jefferson Hope's, was still a bit tedious compared to the adventures leading up to it.
Review by BooksForDinner
16/06/2015
Never read this one before, same as with study in scarlet... i had only read the short stories when i was younger. This had the same kind of flashback sectioin, only it was a story told by a character as opposed to a full on flashback with a different narrator...
Review by jasonlf
16/06/2015
Excellent for what it is, of course. This is the second Holmes novella, fits the formula perfectly, and is enjoyable from beginning to end. It features a locked room mystery (sort of), the usual mysteries that had their origin overseas, and even a little romantic interest for Watson. It is not quite as confounding and mysterious, nor is the solution quite as satisfying, as many of the later Holmes stories. But still excellent.
Review by jwhenderson
16/06/2015
Having already read The Hound of the Baskervilles, I turned to another one of the published Holmes novels, The Sign of Four, in part because it is available in a Penguin Classics edition. Felicitously, I found it to be one of the best detective novels of its time.The story is wonderfully paced with plenty of excitement, from chasing down the criminals through the use of a dog to another appearance by the Baker Street irregulars, and a thrilling boat chase for the climax of the story. More than a century after it was first written, the novel shows little sign of its age. The Sign of Four is well-paced, exciting, and even action packed story. It represents Doyle at his finest in many ways. The mystery is somewhat bizarre with its use of exotic weapons and strange footprints, but not too outre as seemed to be the case in some of the later Holmes stories such as "The Creeping Man." As is often the case it involves a young woman, with the added attraction of a treasure making the case even more interesting.I think that while in Study in Scarlet, we learned about Holmes, in this book we begin to see Holmes' personality: the genius who is so driven to avoid hum drum existence, who seeks problems and trouble to find some problem to keep his attention. The novel is also noteworthy for its focus on Holmes' use of Cocaine in the beginning and end. Dr. Watson (and by extension Dr. Doyle) were concerned about the use of Cocaine in the late 19th Century and its negative effects. However, Doyle wasn't heavy handed in his approach, and so Watson's concern sounds more like a modern doctor's concern with any popular addiction. And Holmes is blaise about it, leading to some interactions and statement that may seem surreal or humorous to the modern reader.
Also by Sir Arthur Conan Doyle | View all