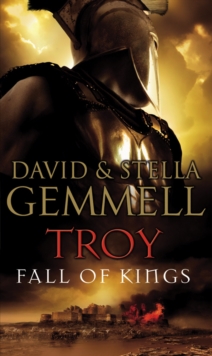 Troy: Fall Of Kings
Paperback
Part of the Troy series
Description
Darkness falls on the Great Green, and the Ancient World is fiercely divided.
On the killing fields outside the golden city of Troy, forces loyal to the Mykene King mass.
Among them is Odysseus, fabled storyteller and reluctant ally to the Mykene, who knows that he must soon face his former friends in deadly combat.
Within the city, the Trojan king waits. Ailing and bitter, his hope is pinned on two heroes: his favourite son Hektor, and the dread Helikaon who will wreak terrible vengeance for the death of his wife at Mykene hands.
War has been declared. As enemies, who are also kinsmen, are filled with bloodlust, they know that many of them will die, and that some will become heroes: heroes who will live for ever in a story that will echo down the centuries.
Information
Format: Paperback
Pages: 672 pages, maps
Publisher: Transworld Publishers Ltd
Publication Date: 24/03/2008
Category: Historical fiction
ISBN: 9780552151139
Free Home Delivery
on all orders
Pick up orders
from local bookshops
Reviews
Showing 1 - 5 of 6 reviews.
Previous | Next
Review by WillieD
16/06/2015
This is the book that should have gotten the Harry Potter hype! The last book by one of the greatest fantasy writer in decades! Anyone who is unsure of where to start with Gemmell, read Legend. This series is definitely the best that Gemmell has written in years! He saved the best for last. Stella - any chance of a Drenai novel?
Review by Eruntane
16/06/2015
It's great to see an example of a series being successfully completed after the death of its creator – it can be a bit hit and miss, but this was definitely a hit. Stella Gemmell has done a fine job of finishing the trilogy, and I have to say I actually preferred her lighter touch, which was an improvement on her husband's occasionally heavy-handed prose.In terms of the actual plot, I read this book much more critically than the previous two. I have a slight obsession with the Trojan war, and while the first two books were really scene-setting, this one was right into the thick of the action. Perhaps it was because it is a story that is so well known to a lot of readers that Gemmell decided to change so much of it, but this was only partly successful. In places he made a very good point about the way stories grow and change and become what we know them as centuries later. The way Helen's reputation for beauty comes about is a good example of this, and the ruse by which the Trojan horse finally gets into the city. In other places, however, the story and particularly the characters are spuriously mucked about with in ways that seem to serve no practical purpose whatsoever. That Andromache ends up walking off into the sunset with Helikaon is perhaps necessary in order to create a slushy ending which is apparently supposed to appeal to the reader, but having Agamemnon murder his sister Iphigenia before dying in the eruption on Thera is utterly pointless. It doesn't do anything for his characterisation that hadn't already been done in other ways, and that couldn't have been done by sticking to the original myth. Kassandra's treatment is similarly silly – no mention is made of her curse throughout the three novels, until about two paragraphs before her death Andromache makes a casual reference to it. By that time it's too late to serve any purpose as a plot element, and would have been much better left alone.Most bizarre of all was the inclusion of Gershom. Although interesting and amusing, it had nothing whatever to do with the story of Troy, and either has to be read as a clumsy attempt to dismiss the events of the Exodus as mythology, or as pure showing off on the part of the author.In conclusion, then, this trilogy is entertaining to read, but as an example of how a modern writer should handle an ancient myth it's not great, and it really doesn't inspire me to read any of David Gemmell's other novels. For those interested in retellings of the Trojan war, I would recommend Colleen McCullough's [The Song of Troy] as a much better alternative.
Review by CliffBurns
16/06/2015
Concluding book of the Troy Trilogy--not as well written as the first two (Gemmell died before completing it and his wife finished it for him) but still a thrilling ride.
Review by iftyzaidi
16/06/2015
I read the first two installments of this trilogy last month and greatly enjoyed them. This final installment wraps up the story of the Heroes of the age, including the siege of Troy and its bitter end. David Gemmell passed away while this was being written, and it was completed by his wife Stella. I can't say to what extend this had an impact on the book, I for one, couldn't really find any difference in tone or writing style from previous Gemmell books.And perhaps that was part of the problem. This book is more of the same. Even many of the events seem familiar to those in the previous installments. Helikaon being chased across the Great Sea in his great ship, his romance with Andromache and their associated angst. Battles. War. A Siege. Heroic deaths. Sea battles. Loyal friends. Attempted assasinations. We've seen this all before. Gemmell's prose is always workmanlike and muscular and thankfully sparse. He definitely tells rather than shows. The romance in particular is depicted in clunky prose, though only slightly less so than the fight scenes. But having said all that, the plot flows along at a fair clip, and continues to hold one's interest. And Gemmell still has the ability to unexpectedly affect you with the occasional standout moment (the death of Helen for example was particularly moving). This book also succeeds as its predecessors did in cleverly working in some of the more fantastical legends of the Illiad and Odyssey and present them in a slightly different light, so that we might read the Homeric legends as distortions of more realistic events. The story of the Trojan Horse for example is extremely cleverly handled, as is that of Odysseus' return to Ithaka disguised as a beggar. The other strength of this series is the number of female characters who play important and relevant roles to the larger story, and whose personal character arcs are of interest. Though this does serve to stretch out the story somewhat.Perhaps I would have been better served spacing out my reads a little more, or perhaps this last installment could have been trimmed. There was an element of 'sameness' creeping in, but it was never enough to make me want to stop reading. All in all the Troy trilogy was an enjoyable read, Gemmell's limitations as a writer aside, and this was a fair enough ending to the series.
Review by kalyka
16/06/2015
It took me some time to finish Fall of Kings, not because it was uninteresting (trust me, it was hard to put down), but because I've been very, very busy.Fall of Kings, the last of the Troy trilogy, opens with Agamemnon and his fleet witnessing the burning of Dardanos, Helikaon's realm. The latter arrives shortly after, burning the whole of the enemy fleet.Meanwhile, in Troy, the situation has gone from bad to worse. Refugees arrive on a daily basis, and those who try to flee are promptly killed by Agamemnon's forces. After Hekabe's death, Priam has become only a shadow of his former self; delusional, alcoholic, insane. He rests his hopes on only two people; his favorite son Hector, and the Dardanian king.It is now winter, cold and bitter. Boats never cross the Great Green in the cold season, yet Priam sends his youngest daughter Kassandra to Thera, along with Andromache. They are to sail on the Xanthos with Helikaon, who needs to travel to his small colony on the Seven Hills for some much needed tin.While on Thera, Gershom has an epiphany, brought on by Kassandra, and leaves the Xanthos to sail back to Egypt, making do on the promise he made to a healer, and thus face his destiny. Kassandra also warns Andromache of a situation in Ithaka; pirates have taken over the city and Penelope is now their hostage. As they speak, Odysseus is running to her rescue and to retake his land, and Helikaon must help. And help he will.In the spring, Odysseus, reluctant ally of Agamemnon, forms a plan to take Troy. While not taking the city itself, the plains and the lower city are taken. Troy itself is now besieged, with little food and water. The nobles are worried that they will not last through the summer.At last, the Xanthos returns. The tin Helikaon has managed to acquire is smuggled to the city, and Andromache can return to her home, and the son she so sorely misses. The great ship and the Trojan fleet must now escape and manages to do so by sinking the enemy's ships, which number twice their own.Soon after, we witness the epic battle between Hektor and Achilles. However, neither survives. Odysseus then leaves Troy, determined not to be part of the sacking of Troy. Nestor follows, along with Achilles' Myrmidons.It won't be long before the city is taken. Andromache must escape, and she is able to do so with the help of Kalliades, Banokles and Helikaon. Meanwhile, Agamemnon reaches Priam's vault, which promises to hold riches beyond belief, only to find it empty. Convinced that Helikaon stole it, he pursues him to Thera.The island is destroyed not long after by a natural catastrophe, and sends a series of tsunamis across the Great Green. While the Xanthos survives them all, Odysseus' fate is unknown.This is a fitting end to a wonderful trilogy. While David Gemmel left this last book unfinished upon his death, his wife, Stella, magnificently took on the task of completing it. The book seamlessly transitions from his writing style to hers, so much so that I never noticed where that transition starts.Again, this is a story of tragedy and loss, of love and loyalty, of life and death, but most of all, of sacrifice. All the characters in the book must sacrifice something, sometimes their own lives, for something, or someone, they cherish. The most gripping of examples is during Andromache's escape, when Banokles cuts the rope after she, Kalliades and Helikaon have descended the wall. He could have joined them, but in not doing so, he saved all their lives, and diminished the chances of having them pursued by the enemy.This has never been about 'the face that could launch a thousand ships'. In fact, Helen is repeatedly described as 'plain and plump'. This has never been about the love story between her and Paris. If anything, the story is about the forbidden love between Andromache and Helikaon, Agamemnon's ambition and greed, and the precarious political situation surrounding it all.Both David and Stella Gemmel capture this beautiful tale inspired by Homer's Iliad, and retell it in a captivating fashion. The novel, and the series, reeks of violence, murder, blood.But through it all prevails hope, love, loyalty and friendship.