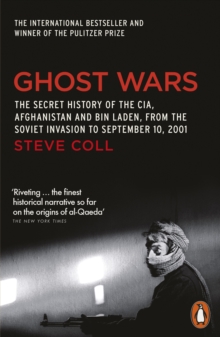 Ghost Warsin Laden, From The Soviet Invasion To September 10, 2001
Paperback
Description
The news-breaking book that has sent schockwaves through the White House, Ghost Wars is the most accurate and revealing account yet of the CIA's secret involvement in al-Qaeada's evolution. Prize-winning journalist Steve Coll has spent years reporting from the Middle East, accessed previously classified government files and interviewed senior US officials and foreign spymasters.
Here he gives the full inside story of the CIA's covert funding of an Islamic jihad against Soviet forces in Afghanistan, explores how this sowed the seeds of bn Laden's rise, traces how he built his global network and brings to life the dramatic battles within the US government over national security.
Above all, he lays bare American intelligence's continual failure to grasp the rising threat of terrrorism in the years leading to 9/11 - and its devastating consequences.
Information
Format: Paperback
Pages: 720 pages
Publisher: Penguin Books Ltd
Publication Date: 01/03/2005
Category: International relations
ISBN: 9780141020808
Free Home Delivery
on all orders
Pick up orders
from local bookshops
Reviews
Showing 1 - 1 of 1 reviews.
Review by iftyzaidi
16/06/2015
This is an outstanding account of American policy towards Afghanistan from about 1977 till September 2001 and more specifically about CIA operations within that country and aimed at dealing with the international Jihadists it spawned. Probably the best book of its kind that I have read as the policy debates and decision-making process in the States is well-covered. One wishes that similiarly exhaustive accounts could be formulated of the decision-making processes in Islamabad and Riyadh (and possibly even Kandahar). If bureaucratic inertia played a large part in stimmying a re-evaluation of policy in Washington, did something similar happen elsewhere?There are hints of this and other policy debates and arguements in Steve Coll's account, but are not well-fleshed out. (Also it must be remebered that sometimes these accounts come from self-serving sources - for example, it escapes me why western reporters base so much of their accounts of politics in Pakistan on the accounts of Mushahid Hussain - an oppurtunistic politician par excellence. Steve Coll quotes him here variously as an aide of Benazir Bhutto, a minister in Nawaz Sharif's government and as a journalist. I recall Adrian Levy and Catherine Scott-Clark had done something similar in excellent book on the Paksitani nuclear programme, 'Deception'.) To what extent were the tensions between army chief Gen Musharraf and Nawaz Sharif the result of differing views on Taliban/UBL policy? Owen-Benett Jones in her book on Pakistan seems to have thought it was a significant factor in the tensions that led to the coup. Steve Coll is dismissive of Nawaz Sharif's offer to create a Pakistan commando team to snatch Bin Laden, buying into the Musharraf govt's line that it was an eyewash and simply meant to create a bodyguard for Sharif independent of the army chain of command. One wonders then why when Sharif decided to take the risky step of dismissing Musharaf as the head of the army, his body guard contingent was deployed at a forward base on the border with Afghanistan instead of stationed in Islamabad to protect the PM? Certainly by all accounts the ISI's use of UBL's jihadist training camps to shelter Pakistani militants responsible for sectarian assasinations in Pakistan was a concern for Sharif (see Hassan Abbas' Pakistan's Drift Into Extremism' for more details of the Sharif govts dispute with the ISI over the activties of Jihadists in Pakistan).Anyway, this isn't a criticism of Coll's work as such, which is fairly exhaustive as it is. Its simply pointing out an area of our understanding which still remains nebulous and worthy of study.