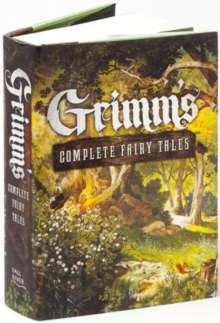 Grimm's Complete Fairy Tales
Hardback
Description
In this new edition of more than 200 tales, readers will find all their old favorites - The Sleeping Beauty, Rumpelstiltskin, Hansel and Gretel, Snow White and others - and many little-known treasures such as The Juniper Tree, Clever Gretel, King Thrushbeard, and The Singing, Soaring Lark.
Enter this world of magic, myth and enchantment and you will want to return to it again and again.
Information
Format: Hardback
Pages: 682 pages, illustrations
Publisher: Barnes & Noble Inc
Publication Date: 17/01/2013
Category: Classic fiction (pre c 1945)
ISBN: 9781435141797
Free Home Delivery
on all orders
Pick up orders
from local bookshops
Reviews
Showing 1 - 1 of 1 reviews.
Review by fearless2012
16/06/2015
There are alot of good fairy tales, but alot depends on the editor or the edition, and going for "The Complete" isn't always the best choice. Repeating a story simply because it was told in the past isn't always a good idea-- it's a bit like turning on the TV and watching something simply because it's being aired. After a certain point, editing is required, whether you admit it or not, after all, there are infinite possible variations to every story, some of which have even made it into writing. So calling any collection "The Complete" is an illusion, and a damaging one, I think. If they simply mean that it's a translation of the "original"-- in terms of the written word-- Brothers Grimm collection of the 1810s, they could simply indicate that in some way. Perhaps-- 'Grimm's Fairy Tales-- Children's and Household Tales', or something like that. I suppose that even of this type of translation there are different versions, and the edition I have (Arthur Rackham as [mediocre] illustrator), doesn't have an introduction (which can be good as well as bad), and doesn't really explain the name-jokes when they come up-- "Fair Katrinelje and Pif-Paf-Poltrie"..... I mean, if you're not going to do something like that well, then maybe you shouldn't include it at all.... should you stuff it in there, just because you have this illusion that there can ever be a "complete" book of fairy tales? In the end this is to me more like a mine from which good stories can be picked, rather than a really good version in itself; my favorite collection of Grimm's Fairy Tales at this point is a google book's version with Edna Henry Lee Turpin as editor, from about a hundred years ago, although there are probably also other good versions, actually meant to be read by, I don't know, children and householders. (I don't want to get into specifics, but if you glance at the list of stories, even, you'll find at least one that clearly you wouldn't read to people of today.... which is why it only makes sense to edit it, as any story-teller modifies what he or she receives from the past....) In the end, the *average* quality of *all* these stories is simply that-- average. It could be better, although it could be worse, too. That's my take. (8/10)
Also in the Fall River Classics series | View all