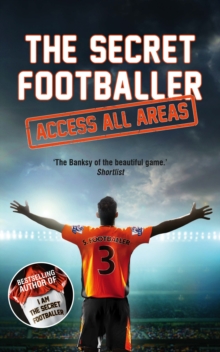 The Secret Footballer : Access All Areas
Paperback
Description
Forgive your enemies, they say. Keep their addresses and keep notes, I say. In Access All Areas, you'll learn how to buy three Premier League points for just GBP25,000, what it's really like to face a Football Association disciplinary hearing, and why every footballer in the country shuddered when they heard about the Ched Evans case.
Add to that The Secret Footballer's no-holds-barred tour of the country's Premier League clubs - telling us what it's like to play in each ground and revealing the one that all players really hate to go to - and you get an entertaining glimpse into a world that's normally off-limits to the fans.
Unapologetically opinionated, witty and honest, Access All Areas is every thinking fan's guide to the beautiful game.
I am The Secret Footballer and all bets from here on in are off...
Information
Format: Paperback
Pages: 368 pages
Publisher: Guardian Faber Publishing
Publication Date: 05/11/2015
Category: Memoirs
ISBN: 9781783350599
Free Home Delivery
on all orders
Pick up orders
from local bookshops
Reviews
Showing 1 - 1 of 1 reviews.
Review by atticusfinch1048
27/01/2016
The Secret Footballer – Access All AreasOnce again The Secret Footballer gets down to the nuts and bolts about the professional game in England lifting the lid on aspects some clubs and managers would never like the light to see. As usual this is a humorous book packed full of information that looks at all the clubs in the current premier league as well as a few of those who are no longer there.The unique views we are given here are wonderful, frank and honest, some know the TSF identity many do not and I hope it stays that way. TSF has now retired from playing professionally and has his fingers in a number of pies. We are able to see how Chief Executives try to dupe fathers about their son's abilities, steer them away from agents and dazzle them with cash.TSF also shows us that like wild animals footballers attract tics that will suck the blood out of them until the show is over then disappear in to the mist. When the phrase of "A fool and his money are soon parted.." could easily be aimed at the professional game especially the high echelons and TSF gives some illuminating stories that back this up. Whether it is buying cars, buying in to businesses or investing in ponzi style schemes, not forgetting the ladies that want the money the fame and fortune. On one TV dating programme a professional play was watching was giving a yes, yes, no, no, as to which ones he had sex with, all because they want to be famous.We are taken on a tour of all the grounds of the premier league and what they are like to play at, and what the crowds are like as well as the dressing rooms. That obtaining 3 points for a win for your team only really costs £25,000, which what the FA fine a manager for berating a referee, and therefore getting a friendlier one to officiate their games. Some managers were better than others at this, especially one that ruled a club that was the biggest team in the league for twenty six years.The Secret Footballer has once again hit all the right spots with Access All Areas telling the fans who it really is in football. All fans usually suspect that most of what he says goes on but never have the proof, so this feeds in to a fans paranoia but at the same time gives everyone a good laugh. As always one is in despair at some of the people who run the game and run the clubs, sometimes naive, some stupid but money seems to be the largest motivator whoever you are.Another winner from TSF that all fans should read and take on board.
Also in the The Secret Footballer series | View all