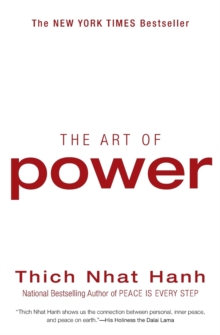 The Art of Power
Paperback
Description
Turning our conventional understanding of power on its head, world-renowned Zen master, spiritual leader, and national bestselling author Thich Nhat Hanh reveals how true power comes from within.
What we seek, we already have. Whether we want it or not, power remains one of the central issues in all of our lives.
Every day, each of us exercises power in many ways, and our every act subtly affects the world we live in.
This struggle for control and authority permeates every aspect of our private and public lives, preventing us from attaining true happiness.
The me-first mentality in our culture seeps unnoticed into our decisions and choices.
Our bottom-line approach to getting ahead may be most visible in the business world, but the stress, fear, and anxiety it causes are being felt by people in all walks of life.
Thich Nhat Hanh illustrates how the current understanding of power leads us on a never-ending search for external markers like job title or salary. "The Art of Power" boldly challenges our assumptions and teaches each of us how to access the true power that is within our grasp.
Information
Format: Paperback
Pages: 240 pages, black & white illustrations
Publisher: HarperCollins Publishers Inc
Publication Date: 03/07/2008
Category: Peace studies & conflict resolution
ISBN: 9780061242366
Free Home Delivery
on all orders
Pick up orders
from local bookshops
Reviews
Showing 1 - 1 of 1 reviews.
Review by RichardHollos
16/06/2015
The title of this book is misleading. The usual understanding of power is the ability to exhibit a large amount of physical or financial influence. What Hanh means by power is the ability to affect the attitudes, thoughts, and opinions of others.This book is one of the most valuable books I have ever read. I have read 2 other mindfulness books: Wild Chickens and Petty Tyrants, and Zen Mind, Beginner's Mind. This book is the best yet, and stands out from the other 2 in its practicality. I was so impressed with this book, that I plan on reading all of Thich Nhat Hanh's other books. There are very few holy men in this world, but Thich Nhat Hanh is one of them. You will know what I mean by this if you read this book.My favorite quotes from this book: Imagine the power of our actions if each one contained one hundred percent of our attention. (pg 41) It is possible to live mindfully every moment of your daily life. This makes you happy and it also makes the people around you happy. (pg 90) Silence is very important. It allows, it helps life to be. We have to retrain ourselves to enjoy silence. (pg 156) Civilization is going to end if we continue to drown in the competition for power, fame, sex, and profit. (pg 169) It's wonderful to stop your thinking and just be. Most of our thinking is an obstacle to being, because when you're absorbed in thinking, you aren't present and fully alive and you can't touch the wonders of life. (pg 179)