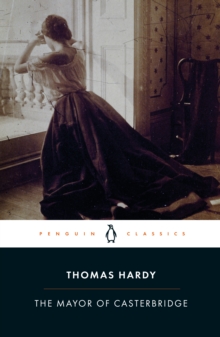 Mayor Of Casterbridge
Paperback
Description
A haunting study of guilt and lost love in Penguin Classics, Thomas Hardy's The Mayor of Casterbridge is edited with an introduction and notes by Keith Wilson. In a fit of drunken anger, Michael Henchard sells his wife and baby daughter for five guineas at a country fair.
Over the course of the following years, he manages to establish himself as a respected and prosperous pillar of the community of Casterbridge, but behind his success there always lurk the shameful secret of his past and a personality prone to self-destructive pride and temper.
Subtitled 'A Story of a Man of Character', Hardy's powerful and sympathetic study of the heroic but deeply flawed Henchard is also an intensely dramatic work, tragically played out against the vivid backdrop of a close-knit Dorsetshire town. This edition includes an introduction, chronology of Hardy's life and works, the illustrations for the original serial issue, place names, maps, glossary, full explanatory notes as well as Hardy's prefaces to the 1895 and 1912 editions. Thomas Hardy (1840-1928), born Higher Brockhampton, near Dorchester, originally trained as an architect before earning his living as a writer. Though he saw himself primarily as a poet, Hardy was the author of some of the late eighteenth century's major novels: The Mayor of Casterbridge (1886), Tess of the D'Urbervilles (1891), Far from the Madding Crowd (1874), and Jude the Obscure (1895).
Amidst the controversy caused by Jude the Obscure, he turned to the poetry he had been writing all his life.
In the next thirty years he published over nine hundred poems and his epic drama in verse, The Dynasts. If you enjoyed The Mayor of Casterbridge, you might like George Eliot's Silas Marner, also available in Penguin Classics. 'The greatest tragic writer among the English novelists' Virginia Woolf 'Visceral, passionate, anti-hypocrisy, anti-repression ...Hardy reaches into our wildest recesses' Evening Standard
Information
Format: Paperback
Pages: 448 pages
Publisher: Penguin Books Ltd
Publication Date: 27/03/2003
Category: Classic fiction (pre c 1945)
ISBN: 9780141439785
Other Formats
Paperback from £2.50
Hardback from £7.45
CD-Audio from £26.65
Mixed media product from £13.45
EPUB from £0.99
Free Home Delivery
on all orders
Pick up orders
from local bookshops
Reviews
Showing 1 - 5 of 6 reviews.
Previous | Next
Review by dalmatica
16/06/2015
A young man, his wife, and their baby daughter stop in at a country fair after travelling through the English countryside searching for work. In a fit of alcoholic rage, the man sells auctions off his wife and daughter to a sailor passing through for a few coins. When he sobers up the next day and realizes what he's done, he searches the nearby towns trying to find them and undo his actions. He fails to find them and vows to give up alcohol. Years later, he's become a succesful businessman and mayor of Casterbridge. When his wife and grown daughter suddenly reappear, his life takes an unexpected turn. Success turns to failure, lives intertwine not always for the better, and everything he's worked so hard for look as though it will crumble before his eyes.Hardy masterfully weaves a fantastic tale filled with the consequences of secrets and lies, the excesses of alcohol, and the power of love and redemption. I had tried to read this a few years ago but wasn't in the right frame of mind. This time around, however, I was hooked from the opening scene. I found The Mayor of Casterbridge to be a powerful story that had me eagerly looking forward to each spare moment I could spend reading a few pages or even a paragraph of two. I highly recommend picking up a copy and reading it yourself.
Review by markfinl
16/06/2015
Thomas Hardy is the anti-Jane Austen. Where her novels end in marriage, his novels usually end gloomily. The Mayor of Casterbridge is no exception. It reminds me of a Greek drama, where the main character is doomed from the start because of hubris. The locals of Casterbridge function as a Greek chorus as well, commenting on the action of the main players. I didn't find this quite as affecting as his other works because there are just too many plot contrivances. Characters appear and disappear, are dead then alive. For a novel so grounded in the realities of early 19th Century English rural life, the plot twists felt out of place.
Review by auntieknickers
16/06/2015
I had to read this in senior English. It was OK. I'm not looking forward to reading more Hardy, much of which is in the 1000 Novels list along with annotations that detail the gloomy, twisted rural plotlines.
Review by jmoncton
16/06/2015
I was surprised how much I liked this book. Ok, it's a classic, the font is tiny, and it looked like a long hard read. The story is about Mr. Henchard, who in a drunken state, sells his wife and infant daughter. Twenty years later, the wife and daughter decide to look for him and discover that he has become so successful that he is the mayor of Casterbridge. Really interesting plot and great characters.
Review by leslie.98
16/06/2015
Set almost entirely in a town, this novel seems to have fewer of Hardy's lyrical descriptive passages than other of his works I have read. The story reminded my of the Greek tragedies - despite all good intentions, the main character Michael Henchard is doomed by his very personality. <br/><spoiler><br/>The book opens with Henchard getting drunk and selling his wife and child to a stranger. He regrets this once he sobers up but it is too late. Years later, when he has become successful &amp; is mayor, his wife returns with her daughter. His life goes downhill from this point. Henchard's fiery temper and somewhat proud temperment lead him into situations that his better nature regrets every time it seems like he might get things going his way again. For example, his lie to the sailor Newsom about Elizabeth-Jane being dead is ridiculous (and he knows it) but he can't bear to admit to either the sailor or Elizabeth-Jane that he needs her. </spoiler>