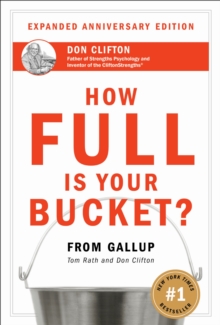 How Full is Your Bucket? Anniversary Edition : Positive Strategies for Life and Work
Hardback
Description
Organized around a simple metaphor of a dipper and a bucket How Full Is Your Bucket? shows how even the smallest interactions we have with others every day profoundly affect our relationships, productivity, health and longevity.
Coauthor Donald O. Clifton studied the effects of positive and negative emotions for half a century, and he and his colleagues interviewed millions of people around the world.
Their discoveries contributed to the emergence of an entirely new field: Positive Psychology.
These same discoveries are at the heart of How Full Is Your Bucket? Written in an engaging, conversational style, their book includes colorful stories and five strategies for increasing positive emotions, and it features an online test that measures readers' Positive Impact.
Free Home Delivery
on all orders
Pick up orders
from local bookshops
Reviews
Showing 1 - 5 of 10 reviews.
Previous | Next
Review by hoosgracie
16/06/2015
Interesting view of psychology – that we should look more at the positive than the negative. Gives good tips on how to improve upon this in both work and personal life.
Review by wiseasgandalf
16/06/2015
How Full Is Your Bucket? is a enjoyable short book that could have been a long magazine article or blog post that winsomely describes a simple psychological concept: giving and receiving genuine compliments, caring, and help = GOOD; giving and receiving cutting, criticizing, and other negative vibes = BAD. There it is. I just saved you fourteen bucks. Ok, there are a lot of warm anecdotes and some interesting research tossed in there that makes you think, and a few simple strategies to keep in mind: Prevent Bucket Dipping: both you and others Shine a Light on What Is Right Make Best Friends Give Unexpectedly Reverse the Golden Rule: Do unto others as they would have you do unto them. His point that every day we have about 20,000 individual moments, snapshots in our conscious lives, and that every moment counts for good or ill, really hit home for me, and that these little individual moments really do add up both for us and the people around us. Besides the price, the only thing I would add to what the book says is to not leave God out of the equation. We shouldn't be kind to other people just to increase our warm fuzzies count, but ultimately to glorify God and please Him. And though God has designed us to receive joy from others "filling our bucket," ultimately Christ must be the inexhaustible fountain in our souls.
Review by brianinbuffalo
16/06/2015
The power of positive thinking and positive reinforcement take center stage in this slim volume that reads more like an expanded magazine article. There are no "lightbulb moments" in this manual for improving relationships and work environments. Still, the authors' "bucket-filling" gospel is supplemented with some helpful learning tools and backed up with convincing anecdotes.
Review by aarondesk
16/06/2015
A great little book that presents the philosophy/psychology of enabling and pursuing positive interactions with others. A good reminder to be kind to others for a healthier, happier life.
Review by amymelniczenko
16/06/2015
Nice little simple book about being positive and being a positive force in the lives of those around us. Very quick read.