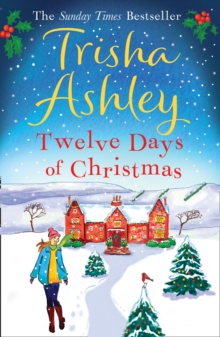 Twelve Days of Christmas
Paperback
Description
Christmas has always been a sad time for young widow Holly Brown, so being asked to look after a remote house on the Lancashire moors is the perfect excuse to forget about the festivities.
Sculptor Jude Martland is determined that this year there will be no Christmas after his brother ran off with his fiancee.
He's keen to avoid the family home. However, he will have to return by the twelfth night of the festivities, when the hamlet of Little Mumming hold their historic festivities and all of his family are required to attend.
Meanwhile, Holly is finding that if she wants to avoid Christmas, she has come to the wrong place.
When Jude unexpectedly returns on Christmas Eve he is far from delighted to discover that Holly seems to be holding the very family party he had hoped to avoid.
Suddenly, the blizzards come out of nowhere and the whole village is snowed in.
With no escape, Holly and Jude get much more than they bargained for - it looks like the twelve days of Christmas are going to be very interesting indeed!
Information
Format: Paperback
Pages: 416 pages
Publisher: HarperCollins Publishers
Publication Date: 28/10/2010
ISBN: 9781847561152
Free Home Delivery
on all orders
Pick up orders
from local bookshops
Reviews
Showing 1 - 5 of 7 reviews.
Previous | Next
Review by nicx27
16/06/2015
This isn't the first Trisha Ashley book I have read, but the others were a long time ago and I got a bit fed up of the chick lit genre back then. However, I was taken with the idea of reading this one over Christmas. It sounded like a good story and I wasn't disappointed. I have to say that I also really liked the glitter on the cover!It's a little bit twee but in the nicest possible way. Holly Brown, a young widow, is asked to house-sit at Jude Martland's country pile while he is out of the country over Christmas. However, she soon ends up with a lot of his relatives and neighbours as house guests, as the house is cut off during 'the big freeze'. Holly is a chef, as well as a house-sitter, and spends a lot of time making mouth-watering dishes for the family, all of whom start to think of her as one of them. While all this is going on, Holly is also reading her late gran's journal from her time nursing during the war, and finds out that the Martlands are not complete strangers to her family. There is a little snippet from the journals at the beginning of each chapter.This is a really lovely book, and I definitely want to read more by Trisha Ashley now. There are some really nice characters in it, and the story is put together very well and is a real heart-warmer.
Review by JessicaLouise23
16/06/2015
What first attracted me to Twelve Days of Christmas was that it sounded very much like one of my all-time favourite Christmas films "The Holiday" with it being about house sitting over Christmas time so I was very excited to start reading this when the snow started to fall and I was really getting into that Christmas Spirit, and well, I guess I'm just going to come out and say it. I didn't like this book.The story centres around 35 year old Holly Brown and the main problem I had with this book is that I didn't get on with Holly- not because she was annoying or nasty or anything like that she was nice enough but she was also incredibly boring and dull. I just didn't have anything in common with her and couldn't warm towards her. It was a bit like meeting somebody at a party who seems like a nice enough person but you'd never actually be friends with them because you don't have anything in common. Holly spends 400 odd pages either cooking, looking after the animals or "thawing off" a HUGELY over used phrase in this book, which is all fine and well if that wasn't all that she done in excessive detail. I like food and animals as much as the next person but I really don't need a running commentary especially when it came to the cooking. Holly spends 80 per cent of her time cooking and not being a keen cook myself I found a huge chunk of this book very tiresome. Holly was for me a rather boring character who I just try as I might couldn't connect with.I also really didn't enjoy Trisha Ashley's writing style. It struck me as rather old fashioned and everyone was rather sensible and proper even nearly a teen Jess who really didn't act like a modern day teenager and behaved more like her gran!That being said this book wasn't all bad. Some aspects of the plot kept me interested and I rather liked some of the secondary characters. Twelve days of Christmas is one of those books with a great story idea but it just isn't executed well. I did wonder at some points if it would be better suited to older readers, with a lot of the main characters being either middle aged or elderly and with the Old fashioned style of writing, but for me as a 20 year old who likes her chick lit funny, fashionable and sexy this book was a bit of a let-down. Although I personally didn't enjoy it I would recommend it to people fond of their cooking or maybe to a slightly older audience than myself. But as a warming fun read for Christmas? I'd give this one a miss. My first Trisha Ashley book and unfortunately I think this will also be my last. 2 stars.
Review by Liabee
16/06/2015
Welcome back to Trisha Ashley as we knew her in Good Husband Material and Every Woman for Herself. An engaging, moment-by-moment (that can get a little tedious, but it's a minor quip), return to fully living for young widow Holly Brown who goes house-sitting over Christmas and meets Mr. Grumpy but Right.
Review by ethel55
16/06/2015
This was a cute read for this time of year. Having picked up a used UK copy, everything in it screamed cosy. Heroine Holly Brown works for Homebodies, a housesitting organization. A remote job up near the Lancashire moors is perfect for Holly, as she doesn't celebrate Christmas anymore. The Martland home quickly becomes the site of an extended house party for nearby relatives when the snow comes and all are pretty much at the mercy of the icy roads. The book was a bit long, but enjoyable.
Review by gogglemiss
16/06/2015
A grieving widow, is employed to to look after a large house, over the Christmas period while the owner is away, determined not to celebrate the time of year. She hadn't recokoned on looking after an ageing horse, a head butting goat, and the owners elderly relations and friends in the village getting to know her, and hinting that she would invite them over for Christmas for a sumptuous feast. Holly finds herself relenting, and seems to spend most of the time, cooking feeding and mucking out the horse and goat, looking after the friendly dog, and cooking, cooking, cooking, etc. I was just exhasted by reading what a Wonderwoman, she was. The recipes sounded delicous. On top of all that, she had to finish of her writing of her cookbook, and read about her grandmother's love life from her diaries.This was so well written, I felt I was actually in the house, where all the family were esconced. Very cosy, acutely drawn characters. Nice