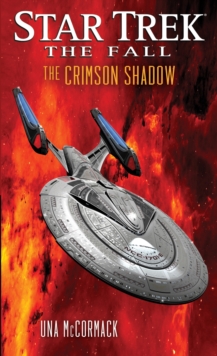 The Fall: The Crimson Shadow
Paperback
Part of the Star Trek series
Description
The U.S.S. Enterprisehas been sent to Cardassia Prime, where Captain Jean-Luc Picard is involved in discussions over the removal of the small number of remaining Starfleet forces left over from the end of the Dominion War.
Also present is the Cardassian Ambassador to the Federation, Elim Garak.
All parties involved are keen to see Starfleet leave Cardassian soil, not only because the Cardassians are now allies of the Federation, but because Starfleet has been badly overstretched in recent years and the resources are needed elsewhere.
With so much goodwill at the highest levels, this meeting should be a formality.
However, within a few days of the arrival of the Enterprise, a Bajoran Federation officer is found murdered.
The crime may be racially motivated: an ultra-nationalist organization called "Cardassia First" has been stirring up anti-Federation feeling across Cardassia over the past year, and a Bajoran is an obvious target...
Information
Format: Paperback
Pages: 352 pages
Publisher: Simon & Schuster
Publication Date: 10/10/2013
Category: Science fiction
ISBN: 9781476722207
Free Home Delivery
on all orders
Pick up orders
from local bookshops
Reviews
Showing 1 - 1 of 1 reviews.
Review by TheMadTurtle
27/08/2015
If you're a fan of Garak from Deep Space Nine, you'll really enjoy this book. I'm a big fan of this character and really liked it. The only thing keeping it from 5 stars for me was the secondary story, which actually became the primary story for a large part of the book, revolving around the murder of a Starfleet officer on Cardassia. While there needed to be 'something' to bring certain players into light, I felt that this story dominated more than it should have and actually took away from the book a little bit.I'm also a little confused by the whole "The Fall" story arc of novels so far. This one, I thought, would revolve more around the TNG characters, based on the blurb on the back cover and the fact that the Enterprise is on the cover. In fact, though, Garak is the principle character in the book.