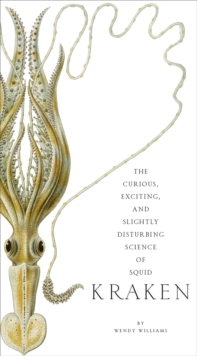 Kraken : The Curious, Exciting, and Slightly Disturbing Science of Squid
Hardback
Description
The oceans are perhaps the last remaining source of profound mystery and discovery on Earth, and are as such of perennial fascination.
Kraken introduces one of the most charismatic, monstrous, enigmatic, and curious inhabitants - the squid, which has supplanted the whale as the sea creature that now obsesses people's imaginations.
The pages take the reader on a wild narrative ride through the world of squid science and adventure, along the way addressing some riddles about how the human brain works, what intelligence is, and what monsters lie in the deep.
In addition to squid, both giant and otherwise, Kraken examines the equally enthralling other cephalopod species, the octopus and cuttlefish, and explores their otherworldly camouflage and bioluminescent abilities.
Like Mary Roach, Mark Kurlanksy, and Susan Orlean, Wendy Williams weaves a rich narrative tapestry around her subject, drawing powerfully on the passions and discoveries of scientists, fisherman, and squid enthusiasts around the world.
KRAKEN is a primarily a narrative book of pop-science, but there will be a few black and white illustrations throughout.
Information
Format: Hardback
Pages: 224 pages, 30 black-and-white illustrations and photographs
Publisher: Abrams
Publication Date: 30/03/2011
Category: Animals & nature in art
ISBN: 9780810984653
Free Home Delivery
on all orders
Pick up orders
from local bookshops
Reviews
Showing 1 - 5 of 12 reviews.
Previous | Next
Review by zibilee
16/06/2015
Cephalopods, a group of animals that include octopuses and squid, may be some of the oldest creatures in the known world and can vary in size from a fraction of an inch to hundreds of pounds. In this wonderful exploration of one of the sea's most mysterious class of creatures, Wendy Williams explores the strange and unique aspects of the cephalopod and explains why this odd creature may have done more for the advancement of medical science than any other animal in the world. She shares the reasons people are so squeamish when it comes to this animal and the unique way they display intelligence that scientists are only now beginning to discover and tap into. Drawing upon research that stretches back hundreds of years, Williams shares the common misconceptions that have hounded squid and octopuses from their earliest days and delights her audience with the weird and wholly unexpected reality and astounding facts about the cephalopods that abundantly fill Earth's oceans.I'm a nut for science writing, particularly nature writing. In my efforts to discover all that I can about the flora and fauna that populate the world, I sometimes come across a book that I can't ignore. This was such a book. I had never really given squid and octopuses much thought because, frankly, they seemed a little too gelatinous and slimy for my liking. But when the opportunity to review this book came up, I jumped on it because it fed my need to know more about nature and the strange things in the sea. I wasn't disappointed in the slightest by this book and found that Williams has not only a conversational and accessible style, but that she used the most fascinating analogies and illustrations to show just what being a cephalopod is all about.Both octopuses and squid have developed and adapted all sorts of body weaponry over the millions of years they have evolved. They are known as experts at defending themselves, which seems counterintuitive because they don't have the protection offered by bones or shell with which to repel predators. Some cephalopods even take fleeing from prey to the next level, like the Japanese flying squid, who can launch its body out of the water to avoid predation. Some are adept at using their skin cells to change colors, and this technique is not only used for camouflage, but also to turn parts of their bodies into either an attractant or repellent by producing some truly startling colors. All cephalopods live in salt water and some can live up to fifteen years. Most cephalopods, however, do not live that long at all.This book was so packed with interesting information that it was like a treasure trove for readers looking for strange tidbits to keep the brain churning. For example, did you know that there are a few squid who can expel a mucus-filled ink that actually mimics the form of the squid when it's released, making it easier for the animal to escape? Or that most cephalopods have three hearts and copper-based blood (as opposed to human iron-based blood)? Many people have probably heard that a cephalopod arm is capable from separating from the body, but did you also know that the severed arm has the capability to live independently for hours? Some cephalopods can even leave the water to hunt on land at certain times. One of the most interesting things I found while reading is that some cephalopods are filled with a protein based bio-luminescent bacteria that enables them to turn lighter and darker beneath the waves, enabling them to be both invisible to predators and giving them light with which to hunt more capably.The research side of this book was also fantastic. Because of cephalopod research, the field of neuroscience has advanced monumentally, and studying cephalopods has helped science fill in questionable evolutionary gaps that have remained unsolved for hundreds of years. Research on squid has even proved promising in the search for a cure to Alzheimer's. It was also interesting to discover that squid share many characteristics with humans, such as binocular vision, similar neurons and neurotransmitters, and even some intellectual developments. The book also shares the fascinating logistics of cephalopod reproduction (which was an eye-opening section indeed), and expounds on the ability of cephalopods to solve complex and multifaceted puzzles. In fact, researchers at this point are a bit stumped in devising puzzles for these animals that will challenge them, because at this point, they have figured them all out in record time. As of this book's writing, scientists are trying to discover a way of quantifying cephalopod intelligence, which is proving to be a difficult task indeed.Reading this book was like being in a natural science class, but unlike a science class, the book was always entertaining and relevant and never repetitious or boring. I found so much here to pique my interest, and as far as science writing goes, this book was top-notch. Maybe I'm the only one who thinks that the myriad creatures of the sea are fascinating, but I have to say, if you pick up this book and give it a few pages, you will be just as engrossed as I was, I'm sure of it. In this fascinating look into the science of cephalopods, no stone is left unturned. A remarkable read.
Review by Asata
16/06/2015
Fairly good science writing dealing with the current state of squid knowledge and research. Fascinating creatures that have saved lives.
Review by cephaloparty
16/06/2015
This was a fascinating, fun, and amazing book. I learned so much and love cephalopods so much more for it. My only critique is that it's very prejudiced toward 'what nature can do to serve humanity', and mentions a handful of incidents or experiments that make me feel vaguely ill. Other than that, however, there are wonderful quotes, references to amazing research, and comparisons to surprising bits of pop culture (there's even a dragonball z reference--I'm not even kidding!) that make the awe-inspiring cephalopod traits even easier to understand.
Review by Kellswitch
16/06/2015
For the most part I found this book to be highly enjoyable, very informative and entertaining and easy to read. I really enjoyed the look at both the various cephalopod families and our long history with them as we've learned more and more over the years. The last couple of chapters got a bit hard to read, especially the one about neurobiology and it's study, I can understand why it's in there considering how important cephalapods have been in the understanding and study of neurons, but it got long and very hard to read at that point. With the exception of that chapter the rest of the book was a breeze to read and amazingly informative for such a small book.
Review by bragan
16/06/2015
I think cephalopods (a category that includes squid and octopuses) are fascinating creatures. They're wonderfully alien and surprisingly intelligent, and I felt like I didn't know anywhere near enough about them. I was hoping this book would rectify that for me, but, while I did learn quite a few things, it's not really an organized exploration of what we know and don't know about squid and their relatives. It's more about the experience of studying these animals, with a focus on how research on them has lead to more general discoveries in science and medicine. Which is fine, but it's not quite what I was hoping for.