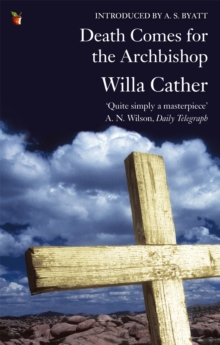 Death Comes For The Archbishop
Paperback
Description
In 1851 Bishop Latour and his friend Father Valliant are despatched to New Mexico to reawaken its slumbering Catholicism.
Moving along the endless prairies, Latour spreads his faith the only way he knows - gently, although he must contend with the unforgiving landscape, derelict and sometimes openly rebellious priests, and his own loneliness.
Over nearly forty years, they leave converts and enemies, crosses and occasionally ecstasy in their wake.
But it takes a death for them to make their mark on the landscape forever . . .
Information
Format: Paperback
Pages: 256 pages
Publisher: Little, Brown Book Group
Publication Date: 01/09/2006
ISBN: 9781844083725
Other Formats
Hardback from £63.39
Paperback / softback from £7.95
Free Home Delivery
on all orders
Pick up orders
from local bookshops
Reviews
Showing 1 - 4 of 4 reviews.
Review by anniemktx
16/06/2015
This is one of only a handful of books that I will read again and again. What a pleasure to spend time each night in the company of very good men, in a place as lovely as New Mexico. Thank you for this book, Ms. Cather.
Review by ctpress
16/06/2015
I do not see you as you really are, Joseph; I see you through my affection for you.This is not a novel of plot - which one finds out along the dusty way - it's more a chronicle of various events of two french catholic missionaries - which Willa Cather have based on two real life characters.The story covers several decades beginning in 1851 when Father Latour reaches Santa Fe to become Vicar Apostolic of New Mexico. The task is daunting - trying to recover and rebuild their french version of the Catholic Church in the midst of superstitious Indians, pioneer Americans and worldly Spaniards. There's several setbacks and incredible long travels on mule in their "jurisdiction" - one has to admire their devotion and sacrifice (still while maintaining the french love for good food and wine, music and art)I found it historically very interesting - the conflict of cultures and religions - I loved the sense of place, Cather's dreamlike poetic prose, the descriptions of the barren, desolate landscape - so, ok it's a western of sorts - and really at it's center a story about a long-lasting beautiful friendship (although they are quite different), about loneliness being far from home - but finding a new home and a new sense of belonging. Specially the last part of the book is a very simple, yet emotional conclusion of two lives - lived well and faithfully for the God they loved. The old man smiled. "I shall not die of a cold, my son. I shall die of having lived".
Review by akblanchard
16/06/2015
Beginning in the 1850's, Father Latour and his friend Father Vaillant serve as missionaries in the unspoiled but unforgiving Southwest. This is a beautifully-written book, short on plot and action (as another reviewer said, it is really a series of episodes or vignettes, rather than a novel) but long on descriptions of places and people.
Review by SandDune
16/06/2015
Let me start off by saying that this is a good book, probably a very good book. But it doesn't speak to me as personally as it clearly speaks to others. There are parts of it that I love and parts of it that I definitely do not love. Overall, I'm glad I've read it but having read both this and My Antonia in the last few months I have come to the conclusion that Willa Cather will never be one of my favourite writers, as she is for many people.Based on the true story of Archbishop Lamy, the first Archbishop of New Mexico, Death Comes to the Archbishop tells the story of Father Jean Marie Latour, from his appointment in 1850 as Vicar Apostolic of New Mexico, a time when that territory was newly annexed to the United States, to his death as the retired Archbishop many years later. With no overriding plot to speak of the book consists of a series of vignettes of Father Latour's life and more that anything presents a moving picture of his friendship with his fellow Frenchman who has accompanied him throughout his missionary work, Father Joseph Vaillant. The strength of this book for me lies in the way that Cather paints the landscape of New Mexico. Her descriptions are at times extremely evocative and almost poetic:<blockquote><I>From the flat red sea of sand rose great rock mesas, generally Gothic in outline, resembling vast cathedrals. They were not crowded together in disorder, but placed in wide spaces, long vistas between. This plain might once have been an enormous city, all the smaller quarters destroyed by time, only the public buildings left - piles of architecture that were like mountains.</I></blockquote>The description of the landscape was a strength in My Antonia too, but I found that landscape described in that book hostile, a landscape that I could not imagine growing to love. The landscapes described in [Death comes for the Archbishop] has the opposite effect: I can begin to understand the love that the Archbishop comes to feel for his adopted country. And here the isolated one-family homesteads of the prairie are replaced by Indian pueblos, small Spanish villages and towns where the churches are old enough to have fallen into ruin. It's a country with a patchwork history which I found fascinating.But holding back my overall rating of the book is Cather's portrayal of her characters. In dealing with her minor characters, at times it seemed that rather than dealing with individuals she was presenting them as archetypal examples of 'the Mexican peasant', ' the Pueblo Indian' and so on. And while at times she gives glimpses into the motivations of Father Latour and his affection for Father Vaillant, I found the narrative was often more flatly descriptive of events with little insight into the feelings of either character. So neither of the main characters really came alive for me in the way that the landscape did.
Also in the Virago Modern Classics series | View all