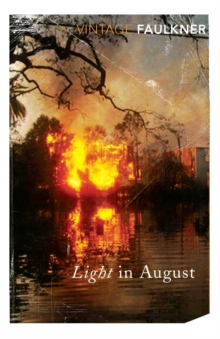 Light In August
Paperback
Description
A landmark in American fiction, "Light in August" explores Faulkner's central theme: the nature of evil.
Joe Christmas - a man doomed, deracinated and alone - wanders the Deep South in search of an identity, and a place in society.
After killing his perverted God-fearing lover, it becomes inevitable that he is pursued by a lynch-hungry mob.
Yet after the sacrifice, there is new life, a determined ray of light in Faulkner's complex and tragic world.
Information
Format: Paperback
Pages: 384 pages
Publisher: Vintage Publishing
Publication Date: 01/10/2000
ISBN: 9780099283157
Free Home Delivery
on all orders
Pick up orders
from local bookshops
Reviews
Showing 1 - 5 of 5 reviews.
Review by headisdead
16/06/2015
My favourite Faulkner. And I like Faulkner.
Review by soliloquist
16/06/2015
Never judge a book by its title. "Awful in August" might be a more appropriate designation. Or "Prolix, Overbearing, and Just Damn Depressing in August," by William Faulkner. Bottom line: I read this in August, and highly disliked it in August. For many, many, many reasons. One of which I remember quite clearly:It's one of those books I wish I could like, because some passages are truly gorgeous. Unfortunately, Joe Christmas failed to compel me and, furthermore, I found his characterization (especially considering his status as a biracial figure cast by a white Southern *gradualist* man) rather troubling.(Granted, my initial opinion of the work was formed at age sixteen, so maybe if I gave it a second read I could give it a better and more insightful review.)
Review by brenzi
16/06/2015
"Memory believes before knowing remembers. Believes longer than recollects, longer than knowing even wonders." (Page 119) I thought I had a mental block for William Faulkner. I thought I was spoiled for him forty years ago when an over-reaching college professor thought The Sound and the Fury was a good choice for college freshmen who hadn't read anything else by Faulkner and to whom stream of consciousness was an unknown quandaryquantity. But now, after reading this book, the curse has been lifted. I'm a Faulkner fan and almost sure to go on and read some of his other work because this book was, well, magnificent, to say the least.Let's start with the characters: naive, determined Lena Grove who is resolutely searching for the father of her unborn child. Faulkner draws her so adroitly that although we all know the father is never going to marry her, we keep hoping that she will somehow come out on top. Can the roll of the dice somehow come out in her favor for once? The inscrutable Joe Christmas, whose miserable childhood is revealed little by little, which enables us to determine much of what is behind his dubious behavior. Hard-working, compassionate Byron Bunch, who falls for Lena, and still helps her to find the man she's looking for because that's just the kind of man he is. And the defrocked Rev. Gail Hightower, whose demons are slowly consuming him, wonders why Byron has such faith in him. Faulkner places these complex characters among the pre-depression-era populace of Jefferson, Mississippi and the story unfolds in layers and flashbacks. The prose is stunning and thoroughly effective in presenting Faulkner's themes of memory, race, fate and free will, society and class, and religion. And in doing so, he counters the light with the dark. This is quite brilliant, otherwise the dark in the novel would be overwhelming and drag the reader down. I am so glad to have rediscovered William Faulkner and will happily read more of his work. Very highly recommended.
Review by Mromano
16/06/2015
While the Sound and the Fury is still Faulkner's best, this novel is a close second and it is certainly an easier read. The tale of Joe Christmas, a half black and white man, who is like Camus' Outsider, outside of any culture, accepted by no one, and treated as an outcast, is compared and contrasted with the tale of Lena Grove, a pregnant woman who is accepted and helped by everyone. The story of Reverend Hightower once again presents a kind of impotent southern morality, impotent in the face of racism and ignorance to change anything. The last scene with Joe Christmas seems to me to be the place where Marquez got the idea of the trailing blood in 100 Years of Solitude.
Review by Luli81
16/06/2015
"From that night the thousand streets ran as one street, with imperceptible corners and changes of scene, broken by intervals of begged and stolen rides, on trains and trucks, and on country wagons with he at twenty and twentyfive and thirty sitting on the seat with his still, hard face and the clothes (even when soiled and worn) of a city man and the driver of the wagon not knowing who or what the passenger was and not daring to ask."It is in the most ruthless and brutal fashion that improbable families are woven together, thriving among fanaticism and carnage. A new, redemptive kind of life can emerge from the ashes through the selfless act of empathizing with the murderer, with the liar, with the deluded. In threading paths alongside them, in going down that endless street called life, there is a chance of embracing the ongoing search for self-acceptance and belonging we all yearn for.Although "Light in August" explores both issues of gender and race, it is this relentless inquiry concerning the nature of identity and how it is influenced by history, religion and moral belief that most struck me. Faulkner presents his case with isolated figures, outcasts who choose or are forced to inhabit the fringes of society, challenging the reader to try their miserable lives on with his first-person-perspective stream of consciousness narrative which allows full immersion in the characters' minds, where past and present, regular print and italics, imbued symbolism and events fuse together into visceral knowing and ultimate understanding.Nothing is fortuitous in this novel, Faulkner's deliberate selection of names for his characters adds subtle resonance to the rich portrait of intersecting lives that he threads together. Names charged with meaning, names which can be seen as allegories.Mr. "Hightower". The old disgraced minister whose surname signals a self-imposed exile inherited from a complex legacy of familial pride, struggle and shame. The reverend is trapped in the past, torn between the romantic image of his grandfather, the heroic cavalryman who fought in the War, and his father, the pacifist doctor. His inner conflicts compromise his effectiveness as a spiritual leader and husband, playing a definite part in the outcome of the story.Joe Christ- "Christmas". The orphaned, racially ambiguous boy with no name. He never stammers, he never pleads. A man without a history, whose only memories consist on painful patterns of violence, abuse and neglect of those charged with his care. His wanderings become a symbolic journey to find out his origins, estrangement and isolation growing in his barren quest to solve the riddle of his being. His futile attempt at establishing human connection with Miss Burden ends not in redemption but in murder and distorted rage. Christmas chooses his path without excuses. He doesn't ask for salvation, his homicidal nature is partially explained when his origins become clear while he patiently waits for his death sentence, for death can be his only release.Miss "Burden", the unfertile spinster who carries her past as a personal crucifixion in the self-imposed obligation to honor the memory of her family with her implacable commitment to the abolitionist cause and black equality. It is, ironically, her obsessive charity that will be her undoing. Lena "Grove" appears as earth-mother, the child of nature. She neither runs nor hides, she bears no shame for her past, Lena's inviolable mantra "how the Lord will see that what is right will be done" accompanies her cyclical wanderings, first into and then out of town. She carries the future within herself and walks half of the country in search of Lucas Burch, the runaway father of her unborn child, but finds Byron Bunch instead, who turns out to be the man Lena has been unknowingly seeking all along. Burch becomes Bunch and her newborn son remains nameless, free of the identity struggles the act of naming can engender, ripe with possibilities.These individually framed lives have to resist the pressing influence of a rigid Society, embodied in Faulkner's collective voice of the townspeople, the implacable jury in the story, who offer no sympathy based on their prejudiced notions of radical moral order, who find ecstasy in crucifixion, who can't pity because pitying might involve self-doubt.The burdens of the past, the isolation of the outcast and the struggle to find a stable and identifiable sense of self, assume tragic dimensions in this novel where lives are sacrificed so that an unwritten future might be engendered. The smoke rising from the Burden House serves not as an ill omen for worse times to come but as a sort of ritualistic cleansing which marks the ending of a self-destructive journey. A newfound, Phoenix-like family arises from the dust to start threading fresh paths along unnamed streets, steering towards a renewed life where hope and undefiled memories are possible. An unscripted future full of light can start in August.