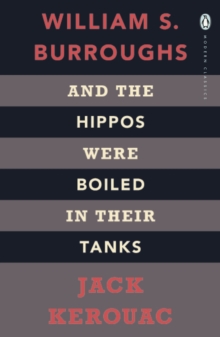 And The Hippos Were Boiled In Their Tanks
Paperback
Description
In alternating chapters that reveal a nascent period in their development as two of the twentieth century's most influential writers, Beat Generation icons William S.
Burroughs and Jack Kerouac's And the Hippos Were Boiled in Their Tanks is an electrifying true-life mystery, including afterword by James Grauerholtz in Penguin Modern Classics. This is a hardboiled crime novel, and a true story.
In 1944, Jack Kerouac and William Burroughs, then still unknown writers, were both arrested following a murder: one of their friends had stabbed another and then come to them for advice - neither had told the police.
Later they wrote this fictionalised account of that summer - of a group of friends in wartime New York, moving through each other's apartments, drinking, necking, talking and taking drugs and haphazardly drifting towards a bloody crime.
Unpublished for years, And the Hippos were Boiled in their Tanks is a remarkable insight into the lives and literary development of two great writers.
If you enjoyed And the Hippos were Boiled in their Tanks, you might like Kerouac's On the Road, also available in Penguin Modern Classics. 'The novel that kicked it all off' Independent 'An insight into Kerouac before he went on the road and Burroughs before his drug use spiralled out of control, this is a major literary event' GQ
Information
Format: Paperback
Pages: 224 pages
Publisher: Penguin Books Ltd
Publication Date: 01/08/2009
Category: Crime & mystery
ISBN: 9780141189673
Other Formats
eAudiobook MP3 from £10.04
Free Home Delivery
on all orders
Pick up orders
from local bookshops
Reviews
Showing 1 - 2 of 2 reviews.
Review by edwinbcn
16/06/2015
Written in 1945, And the hippos were boiled in their tanks was not published until 1997. Alternating chapters were written in a collaboration between William S. Burroughs, who wrote the Will Dennison chapters, and the young Jack Kerouac, who wrote the Mike Ryko chapters. It is obvious, that at this early stage in their careers, Burroughs is the better writer of the two co-authors.To readers who are averse of the style of Burroughs and Kerouac, despite its quirky title, And the hippos were boiled in their tanks is remarkably "normal" and atypical of the two authors' later work. Its main interest lies in the fact that it is an early work by these authors, and is based on a real murder case in lieu of which the authors were arrested as accessories. The novel is a reasonably enjoyable read, if your interest in the authors and the real murder case, are combined with an interest in reading regular crime and detective stories of the 1940s.The novel begins with the four friends lounching in Dennison's apartment, and the sexy description of Phillip Tourian, seventeen years old, half Turkish and half American, " the kind of boy literary fags write sonnets to, which start out, "O raven-haired Grecian lad . . ." (p.4). The members of the little group hang out discussing poetry, while living a life in semi-poverty. Forty-ish Ramsey Allen follows Phillip around hoping to develop a lasting relationship with the young man, both in love and sexually.The murder comes relatively late, towards the end of the novel (p.165), and the story barely handles the consequences. Obviously, the lounging lifestyle of the main characters with its subliminal (homo) sexuality is the mainstay of the novel. Relatively little happens in terms of plot, and the overall atmosphere is brooding, as the characters do not seem to know how to shape their lives.The novel seems mainly of interest to a small readership that is either interested in the origins of the Beat Generation, or the beginnings of gay literature and its setting in Christopher Street in the New York of the mid-1940s.In the Penguin Modern Classics edition (2008 / 9), the novel is followed by a long and informative afterword by James Grauerholtz.
Review by elliepotten
16/06/2015
Finally, my first Beat novel! It's been a long time coming, though I'd always assumed <i>On the Road</i> would be my first... but whatever. I got this one from the library right after I bought <i>Kill Your Darlings</i> on DVD and realised that the book was essentially a thinly-veiled novelisation of the real events depicted in the film. Labelled a 'crime noir', I actually didn't think it felt that way at all; the murder is a fleeting thing right near the end of the book. It's incredibly easy to read, filled with tiny mundane details that build up a picture of a bohemian alcohol-fuelled lifestyle largely consisting of bar hopping and drifting in and out of each other's homes to eat, sleep, love, talk and dream. I also liked the insight into how boys would 'ship out' to work at sea, and how that process worked. An odd one, this, in that I didn't rank it THAT highly, yet I'd really like to reread it and have my own copy at some point in the near future.