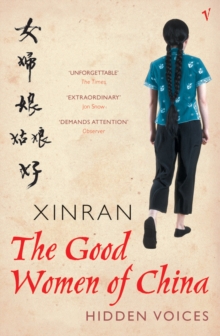 The Good Women Of China : Hidden Voices
Paperback
Description
For eight groundbreaking years, Xinran presented a radio programme in China during which she invited women to call in and talk about themselves.
Broadcast every evening, Words on the Night Breeze became famous through the country for its unflinching portrayal of what it meant to be a woman in modern China.
Centuries of obedience to their fathers, husbands and sons, followed by years of political turmoil had made women terrified of talking openly about their feelings.
Xinran won their trust and, through her compassion and ability to listen, became the first woman to hear their true stories.
This unforgettable book is the story of how Xinran negotiated the minefield of restrictions imposed on Chinese journalists to reach out to women across the country.
Through the vivid intimacy of her writing, the women's voices confide in the reader, sharing their deepest secrets for the first time.
Their stories changed Xinran's understanding of China forever.
Her book will reveal the lives of Chinese women to the West as never before.
Information
Format: Paperback
Pages: 240 pages
Publisher: Vintage Publishing
Publication Date: 01/06/2003
Category: Gender studies: women
ISBN: 9780099440789
Free Home Delivery
on all orders
Pick up orders
from local bookshops
Reviews
Showing 1 - 3 of 3 reviews.
Review by dylanwolf
16/06/2015
In 1989 Xinran began broadcasting a radio program in China called "Words on the Night Breeze". She managed to persuade the bosses at the Nanjing Radio Station to let her include letters and calls from women all over China. The most remarkable of these stories are included here and paint a harrowing picture of exploitation of women in China. Human rights abuses are still a huge issue in this enormous developing country and one that has to be tackled. The West can not afford to sweep this issue under the carpet but how it should be addressed is far thornier question. An horrific and saddening book to read.
Review by isabelx
16/06/2015
I'm very glad that I wasn't born a Chinese woman during the 20th century, since the women Xinran interviewed for her radio show seemed to have uniformly harrowing lives. My favourite chapter was about the children's home run by women who lost had their own children in the 1976 earthquake, with the story of the girl who died fourteen days after the earthquake being particularly traumatic. When I read the last chapter of the book, I was stunned that the villagers of Shouting Hill lived in such primitive conditions as late as 1996, but according to Xinran, they were the only women she spoke to who were actually happy.
Review by shanaqui
16/06/2015
Xinran was the presenter of a radio show in China, during which she would ask women to call her and tell her about themselves. Over the years, she gathered many stories of Chinese women, and this book contains fifteen of them, including her own. It's a diverse collection of stories, including the stories of a lesbian woman, of loveless forced marriages, of hopeless love stories, of women who were raped as children...<br/><br/>They're eye-opening, saddening, horrifying. Xinran's matter of fact tone -- though no doubt partly due to the translation -- doesn't do anything to hide that. I wouldn't say that any story in here is actually a happy one.<br/><br/>Worth reading, though, yes. If you want to learn about Chinese women through the eyes of a Chinese woman, The Good Women of China will definitely help, while at the same time it doesn't dump information on you in big blobs -- the idea is to give these women of China a voice, really, not to educate the West. Xinran doesn't just speak of other women, and her own story runs through it all, with her own thoughts and reactions contextualising the stories.