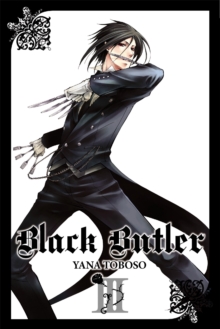 Black Butler : v. 3
Paperback
Description
Grelle's chainsaw-like scythe cuts through anything, quickly overpowering Sebastian as Madame Red attacks Ciel.
Grelle kills her when she refuses to kill Ciel. Memories of her sister and her sister's husband the Earl of Phantomhive are played out, an effect of the scythe. Sebastian attacks Grelle and tangles Grelle's chainsaw with his coat.
Sebastian tries to kill Grelle with the scythe but the shinigami William Spears stops him.
William apologizes for Grelle's actions and takes Grelle away for punishment.
After Madame Red's funeral, Ciel is warned against sinking into darkness.
Ciel's aunt and fiancee visit the estate. Ciel and the Marchioness engage in a hunting competition but when the group is attacked by a bear, Ciel protects Elizabeth and Sebastian kills the bear, although it appears to be the Marchioness' handiwork.
The Middlefords and the servants wish Ciel happy birthday, the true purpose of the visit
Information
Format: Paperback
Pages: 192 pages, Integrated: 160, b/w drawings
Publisher: Little, Brown & Company
Publication Date: 26/10/2010
Category: Comics and Graphic Novels
ISBN: 9780316084260
Free Home Delivery
on all orders
Pick up orders
from local bookshops
Reviews
Showing 1 - 2 of 2 reviews.
Review by Kassilem
16/06/2015
I looked and this series has been on the bestsellers list both in Japan and America. Just goes to show that a lot of people like volumes. I certainly do. The plot is moving along nicely and there is already some small character development. Artwork as always is great. Glad I got to the series. Looking forward to more.
Review by krau0098
27/01/2016
This is the third volume in the Black Butler series. I have been absolutely loving this series; it is incredibly entertaining and well drawn.This volume finishes up the Jack the Ripper storyline started in Vol 2. We also get to meet Ciel's betrothed's mother and go on a hunt.I continue to enjoy the humor and the paranormal plot in these manga. They are absolutely beautifully illustrated with a lot of attention to detail.I love Ciel and Sebastian as characters; they are fun, mysterious, and quite nice to look at. It has been fun to watch the mystery of how Sebastian ended up serving Ciel slowly unravel.Overall this is an incredibly well done manga that I am absolutely loving. I would recommend to those who enjoy historical fantasy manga with a paranormal plot.