Food & Drink Books
Cook up a storm in the kitchen with our huge selection of food and drinks books. We have a great variety of recipe and cook books to cover all cuisines, tastes and categories. You'll find bestsellers, new releases, pre-order titles and our current special offers. We've featured popular celebrity chefs and collections to help inspire and take your cooking further. We also have a fantastic range of cook books for vegans and those with dietary requirements including gluten and dairy free, along with, detoxing and juicing books.
Popular categories
Our recommended choice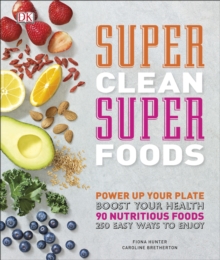 If you're feeling overwhelmed by clean eating advice, look no further.
Super Clean Super Foods is the ultimate nutritional guide to superfoods, telling you all you need to know to power up your plate. Super Clean Super Foods offers an introduction to over 90 delicious superfoods including quinoa, acai, buckwheat, chia seeds, kale, tumeric, coconut, and matcha, showing you the nutritional benefits...