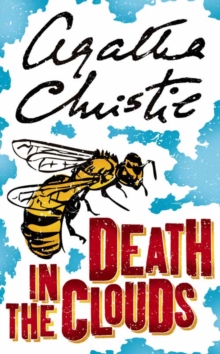 Poirot : Death in the Clouds
Paperback
Part of the Poirot series
Description
A woman is killed by a poisoned dart in the enclosed confines of a commercial passeneger plane...From seat No.9, Hercule Poirot was ideally placed to observe his fellow air passengers.
Over to his right sat a pretty young woman, clearly infatuated with the man opposite; ahead, in seat No.13, sat a Countess with a poorly-concealed cocaine habit; across the gangway in seat No.8, a detective writer was being troubled by an aggressive wasp.
What Poirot did not yet realize was that behind him, in seat No.2, sat the slumped, lifeless body of a woman.
Information
Format: Paperback
Pages: 336 pages, plan
Publisher: HarperCollins Publishers
Publication Date: 04/06/2001
Category: Classic crime
ISBN: 9780007119332
Other Formats
Paperback from £6.15
EPUB from £5.49
Free Home Delivery
on all orders
Pick up orders
from local bookshops
Reviews
Showing 1 - 5 of 5 reviews.
Review by smik
16/06/2015
This is a fascinating novel from a number of points of view.To start with, because of its setting, it is very obviously a "locked room" mystery. If Mme Giselle's death is murder then the murderer has to have been on the plane. Hercule Poirot, that inveterate sufferer from mal-de-mer, is concentrating on not being a victim of mal-de-air, and feels a great deal of chagrin that murder has taken place under his very nose, or to be more precise, under his closed eyes.For air travellers amongst us, travel on this plane was very different, and much more in keeping with travelling by train or by steamer. To start with luggage, rugs and other paraphernalia are heaped rather untidily at the end of the cabin, which Agatha Christie keeps calling a "car".At the front of the book is a diagram of the rear "car" of the plane Prometheus, which clearly shows that some of the seats are arranged in "facing" sets of 4.And just a final point about this setting - the windows of the plane have little air vents, big enough to have passed a blow pipe through. They obviously didn't fly at 37,000 feet.The investigation of the murder is jointly conducted by Poirot, the French detective Fournier and Inspector Japp from Scotland Yard, and each brings a different quality to its conduct. Poirot and Fournier are both interested in the psychology of crime.In the following Poirot, Fournier and Japp are talking about perception, and how we interpret what happens in the light of other observations (or perhaps what we don't notice)Fournier says .... when a lady dies suddenly of heart failure, if a man is to drop his handkerchief and stoop to pick it up, who will notice the action or think twice about it?I really enjoyed the interaction between these 3.Finally we see a further development of the romantic side of Hercule Poirot's character, when he lets a society lady off lightly and gives a young orphan a gentle push towards love.
Review by qquiet
16/06/2015
It's almost always easy to read an Agatha Christie in one sitting. (So far, the only mysteries of AC's that took me a long time to read are the Jane Marple mysteries). Hercule Poirot is always engaging (so far). <br/><br/><b>Death in the Clouds</b> tackles the usual elements of AC's, psychology, the multiple suspects, the red herrings, etc. And the romance sub-plot is always welcome. The plot twist was good, but since I read <b>Cards on the Table</b>, it doesn't compare to that. <br/><br/>It was a pleasant interlude after reading <b>"One Flew Over the Cuckoo's Nest"</b> which was more of a heavy - but pleasant - reading.
Review by amelish
16/06/2015
Review by Samar.Abd-Allah
16/06/2015
Was okay, very typical,starting to think that maybe it's because of the translation... or maybe Christie is not interesting 2 me as be4?<br/>
Review by bbbart
16/06/2015
Enjoyed the story as such, but at the end when the identity of the murderer is revealed to the reader by Poirot, I felt quite disappointed, since I believe there was no way I as a reader could have found it out myself with the given information. Usually, Christie does manage to give all clues to the reader in her stories.<br/><br/>That's why it's only a 3 from me, and no 4 this time.