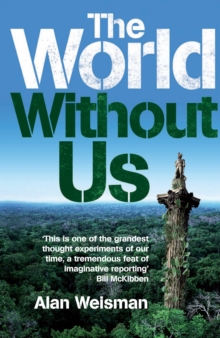 The World without Us
Hardback
Description
'On the day after humans disappear, nature takes over and immediately begins cleaning house - or houses, that is.
Cleans them right off the face of the earth. They all go.' Alan Weisman looks to the future to discover what the world might be like, and how it would change, if humans disappeared right now, for good.
In the current age of anxiety over our impact on the earth's climate and environment, this timely book offers an intriguing glimpse of what the real legacy of our time on the planet may be.
How would the natural world respond if it were suddenly relieved of the burden of humanity?
Would the climate return to where it was before we fired up our engines?
Could nature ever obliterate all traces of human civilization?
How would it undo our largest buildings and public works, and could it reduce our myriad plastics and synthetics to benign, basic elements? And what about architecture and art? What will be our most enduring legacy?This groundbreaking book examines areas of the world that have been abandoned or never occupied by humans to see how they have fared without us and looks beyond to discover whether, and for how long, our largest cities, biggest achievements and most devastating mistakes will last after we are gone.
In doing so it wrestles with some of the key concerns of our time and reveals a picture of the future that is both illuminating and terrifying.
Information
Format: Hardback
Pages: 336 pages, Integrated b&w illustrations
Publisher: Ebury Publishing
Publication Date: 05/07/2007
Category: Social impact of environmental issues
ISBN: 9781905264032
Free Home Delivery
on all orders
Pick up orders
from local bookshops
Reviews
Showing 1 - 3 of 3 reviews.
Review by seldombites
16/06/2015
The World Without Us gives a bleak look at the future of the planet, but I would not recommend it unless you are extremely interested in the minutiae of the topic. This book started out entertaining and unique, making the first half difficult to put down. Unfortunately, it quickly became very repetitive and boring, and I was unable to get much past halfway. There are some interesting facts in here that are not well publicised and need to be said, but this book could have been halved without deleting any of the relevant content. Good concept, but way too long.
Review by madcurrin
16/06/2015
Damn, I should stop reading books like this, it's all too depressing. But a great read all the same. Hiding thinly behind the book's interesting sci-fi conceit is the message that the world with us RIGHT NOW is pretty much stuffed. Having said that, Weisman writes engagingly, keeps the science simple, and obviously isn't as depressed as me about the future. Or if he is he hides it well behind his (sometimes even chirpy) matter of fact writing style. It's probably no accident that he saves the most optimistic quote for the last chapter, when one of his interview subjects says with a smile, "I haven't given up on us yet." A fascinating bonus for me in this book was the ancient history infused throughout, since where we've come from informs where we are and where we're headed. A book to make you love wildlife and the environment, if you don't already. Recommended reading as the most interesting one stop shop for all things Planet Earth as you're ever likely to find.
Review by RefPenny
16/06/2015
In each chapter of this book Weisman looks at another aspect of how the Earth would change if the humans disappeared: what would happen to cities, animals, birds, farms, plastics, pollutants, ancient & modern wonders, nuclear power plants and the earth itself. Although some human artifacts would disappear surprsingly quickly others will persist for a frighteningly long time. This book draws on the knowledge of many different experts but Weiman manages to craft into a engaging and very readable, if somewhat depressing, whole.