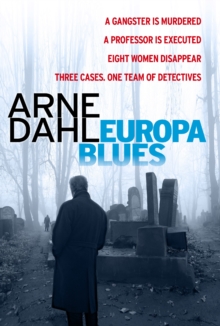 Description
A Greek gangster arrives in Stockholm, only to be murdered in a macabre fashion at Skansen zoo, his body consumed by animals.
As the Intercrime Unit - a team dedicated to solving international violent crime - investigate what brought him to Sweden, eight Eastern European women vanish from a refugee centre outside the city while an elderly professor, the tattooed numbers on his arm hinting at his terrible past, is executed at the Jewish cemetery.
Three cases, one team of detectives and an investigation that will take them across Europe and back through history as they desperately search for answers, and the identities of the killers.
Information
Format: Paperback
Pages: 368 pages
Publisher: Vintage Publishing
Publication Date: 06/08/2015
Category: Crime & mystery
ISBN: 9781846558115
Free Home Delivery
on all orders
Pick up orders
from local bookshops
Reviews
Showing 1 - 1 of 1 reviews.
Review by atticusfinch1048
10/11/2015
Europa Blues – An Examination of the Forgotten PastArne Dahl is one of the best Scandi crime novelists with a huge amount of fans across Europe, as he is not afraid to tackle taboo subjects in his thrillers. Once again he does this in Europa Blues which was written in 2001 but only recently translated in to English that looks in to the dark heart of Sweden, its war neutrality and hiding in plain view. Europa Blues takes us from Stockholm, to Italy and various points across Eastern Europe.An unknown Greek gangster has only recently moved to Stockholm and is causing problems already, but he ends up being murdered in unusual circumstances by the wolverines of the Skansen Zoo who consume most of him. While elsewhere in the City eight Eastern European women, who have been trafficked in to the sex industry have vanished from a refugee centre outside of the Stockholm. An elderly science professor is murdered in a Jewish cemetery, with tattooed numbers on his arm.All three crimes are going to be investigated by The A-Unit shortened from the National Crime Investigation Department's Special Unit for Violent Crimes of an International Nature. A team of detectives that had been busy over the previous year. These experienced and cynical detectives started out investigating three separate crimes with the aid of a colleague who is using inherited money living in Tuscany.As the investigation deepens and they contact various Police Forces across Europe a bigger picture of what they are investigating becomes a little clearer even if at times a little confused. It is when they have to look deeper in to what happened during the Second World War things do become a little clearer even if it also challenging the long held view of Sweden's neutrality during the war and that was an enabler with its own fascist problems at that time.Things start to come together and the picture becomes clear when the Greek gangsters murder is a message to a Milan crime family known as Ghittone makes the murder seem like poetic justice if not a little savage. Especially as there seems to be a team of female ninjas who are running across Europe taking revenge on the murder victims and sending various messages.As the A-Unit investigates further what does become clearer to the team is that everything is related to the war and medical research, and an unknown murder victim with no nose sometime back in the 80s. Through police work across Europe and using modern technology will the answers final arrive even if one of their number ends up having a pistol forced in to his mouth.For a crime thriller the reader is always asked a few questions, about what do we really care about, would you really care what happened to refugees if they just disappeared, and were removed from the country. It also asks the question of do you really know what your family did during the war; do you have a clear conscience? As well as historic crimes, ghoulish crimes of the present there is still a fair amount of humour in the thriller.Europa Blues is a further example of why Arne Dahl is considered as one of the best Scandi Crime Writers out there, and I cannot recommend this highly enough.