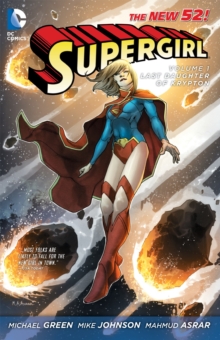 Supergirl : The Last Daughter of Krypton Vol. 1
Paperback
Description
* Crash-landing on a strange new planet, Supergirl must come to grips with Krypton's destruction and learn about her own past.
But an ingenious foe wants the same information - and will do anything to get it! * Collecting issues #1-7 of the DC Comics - The New 52 series!
Information
Format: Paperback
Pages: 160 pages, chiefly col. ill
Publisher: DC Comics
Publication Date: 30/10/2012
Category: Superheroes
ISBN: 9781401236809
Free Home Delivery
on all orders
Pick up orders
from local bookshops
Reviews
Showing 1 - 3 of 3 reviews.
Review by catfantastic
16/06/2015
The <i>Supergirl</i> New-52 reboot opens with Kara's escape pod crashing to Earth. She has no memory of the destruction of her home planet, and no idea what's going on. At first she thinks everything is some crazy dream! Kara arrives on Earth as an adult with very clear memories of Krypton and her family, so for her the loss is wrenching. She also has to deal with the sudden onslaught of superpowers developing all at once, which she can barely control. Kara is a sympathetic character with an interesting story, but for me the second half of this volume was much weaker than the first, as she's already relegated to throwing punches at some generic baddies.
Review by LaneLiterati
16/06/2015
I find myself pretty surprised that I really enjoyed this New 52 volume of Supergirl. I have read some stories previously of Supergirl's, but this one was the reboot for the DC Comics New 52 event. I really like the struggles that the character is put through from the very beginning, and the last two issues set up an epic showdown for the next volume or who know for how long. Definitely will continue to read Supergirl, and absolutely amazed at the plethora of female-centric comics that are catching my attention in the New 52.
Review by ElizaJane
16/06/2015
This is my first time ever reading Supergirl and I enjoyed this introduction to her. The New 52 introduction is a set-up story giving Kara her background arrival on earth. She doesn't know what is going on, where she is, and finds she has superpowers. She's rip-roaring mad and when Superman makes an appearance she takes it out on him. That was a lot of fun! There is a story in here that has Kara up against some creatures called the "Worldkillers" and there is some sort of secret between them, her father and Krypton but that plot is settled for the time being and the next volume is ready to start a fresh story. We don't get to know Supergirl much as she's angry and stubborn most of this book but I'm pretty ok with her look, costume and she's muscular, certainly a good look. I'm intrigued and will read her again.