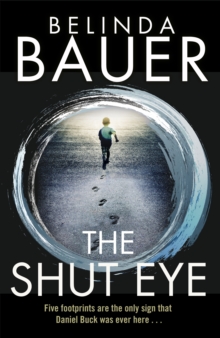 Description
"The most polished crime writer on the murder beat...Exhausting, exhilarating and damn scary, another 24-carat creation from the Queen of Thrills." (Daily Express).
Five footprints are the only sign that Daniel Buck was ever here. And now they are all his mother has left. Every day, Anna Buck guards the little prints in the cement.
Polishing them to a shine. Keeping them safe. Spiralling towards insanity. When a psychic offers hope, Anna grasps it. Who wouldn't? Maybe he can tell her what happened to her son...But is this man what he claims to be?Is he a visionary?
A shut eye? Or a cruel fake, preying on the vulnerable? Or is he something far, far worse?
Information
Format: Hardback
Pages: 304 pages
Publisher: Transworld Publishers Ltd
Publication Date: 12/03/2015
Category: Crime & mystery
ISBN: 9780593072875
Other Formats
Paperback from £7.09
EPUB from £3.99
eAudiobook MP3 from £8.00
Free Home Delivery
on all orders
Pick up orders
from local bookshops
Reviews
Showing 1 - 5 of 5 reviews.
Review by nicx27
27/08/2015
I love Belinda Bauer's books so was really pleased to be able to read The Shut Eye. Daniel Buck is a missing child. His mother is going slowly mad and spends a long time everyday cleaning and polishing his little footprints on the concrete forecourt of the garage next door. DCI Marvel is a police officer investigating the disappearance of another child, and linking them both is a shut eye, a psychic who claims to be able to help find missing loved ones.I really enjoyed this book. Bauer has such a clever way of writing a story that makes it so unique. Not a comedy by any means, but her comedic and dark writing made me really laugh at one point. Marvel is a real maverick and though generally unlikeable, I thought he was a great character. I'd love to see him pop up in future stories. The story of the missing children is well told but not sentimental and overall this is a book that kept me turning the pages and also surprised me with how it all turned out. Thank you to the publishers and Netgalley for the review copy.
Review by shelleyraec
16/06/2015
Belinda Bauer's backlist, including Rubbernecker, has been on my 'must read' list for quite some time but as it happens The Shut Eye is the first of her six published books I have read.DCI John Marvel is haunted by the case of missing schoolgirl, Edie Evans, and resents being distracted from his investigation when he is tasked by his boss to find his wife's poodle. Marvel couldn't care less about the fate of Mitzi but when he is approached by Anna Buck, a young mother grieving for her own missing son, with information that seems to link Mitzi, Edie and Richard Latham, a local self-proclaimed psychic, his interest in the case is assured.The Shut Eye is solid crime fiction with unexpected flashes of dark humour, unfolding from the perspectives of Marvel, Anna, and her husband James.DCI John Marvel is a dogged and driven detective, but not a particularly nice man. He is brutally dismissive of his colleagues, his de facto partner, and suspicious of humanity in general. He is also a skeptic, and detests Latham's 'psychic' claims, so he is challenged by the inexplicable elements of the case even though he is willing to do anything to solve it.James is shamed by the depth of his wife's grief, and feels guilty for the role he plays in it, but is at a loss as to how to help her. A mechanic, he works in the garage next door to their flat with a motley assortment of illegal colleagues, doing little else than putting one foot in front of the other every day.Five months after her four year old son slipped out of the front door of their home, accidentally left ajar by her husband, and vanished without a trace, Anna Buck is still crazed with grief. Bauer's portrayal of Anna's emotional agony is raw and affecting, she is teetering on the edge of a complete breakdown when she reaches out to Latham.The paranormal element of the story comes into play when Anna visits Latham's 'church' in search of answers. Though he refuses to help her, soon after Anna believes she is either experiencing visions, or has finally gone mad.The Shut Eye is a good read, but I thought the characters were more convincing than the plot. I enjoyed the uncertainty Bauer created by blurring the line between proof and visions, and offering multiple suspects. The ending didn't quite sit right for me though, feeling a little rushed and aspects of it unlikely.
Review by Carpe_Librum
27/08/2015
The Shut Eye by Belinda Bauer is a gripping and entertaining read, straddling both the thriller and crime genres equally.Anna is a mother trying to come to terms with the disappearance of her young son Daniel, who disappeared one morning and hasn't been seen since. Every day she painstakingly preserves the last sign of him, footprints left in wet cement in front of her house, being poured the morning Daniel disappeared.Anna's husband James left the front door open on the morning of Daniel's disappearance and their marriage is feeling the strain of the blame game.We also hear from Detective John Marvel assigned to a different case, but whose investigations will cross over into Daniel's disappearance.Anna is close to losing her mind with grief, and can't be sure if she is seeing visions or not. There is a subtle tint of the paranormal in The Shut Eye that is slight and well-handled and it added to my enjoyment of this mystery crime thriller.The character's despair felt so real, and the mystery of the disappearance and other cases Marvel was investigating definitely kept the pace flying along.This was going to be a five star rating for me until the end; there was one aspect of the ending I wasn't entirely satisfied with, although I - kind of - understand why the author chose to leave one of the cases open ended. We don't always get all the answers we want in life, but I was selfishly hoping for all the answers here.Highly recommend The Shut Eye by Belinda Bauer to readers who enjoy a good mystery, thriller or crime novel.
Review by Suzannie1
27/08/2015
Review by Beamis12
27/01/2016
A missing four year old, a mother drive mad from grief, another young girl, messing, a missing dog, a church minister thought to have paranormal powers and a crusty detective haunted by a case.For most of this novel I had absolutely no idea where it was going. That is good thing in a suspense story and for me the talent that his author has, she reveals things and lets you know things exactly when she wants you to know them. Plus, you have a pretty gold reading experience getting there. Eventually, of course all come together leaving one, or at least me, totally surprised. Misdirection, she is so great at it. Absolutely loved the crusty old detective, who is much deeper than at first appeared, more layers. Plus, I learned what a shut eye was in paranormal circles.If you haven't read her yet and are a suspense, thriller reader give her a try.ARC from publisher.