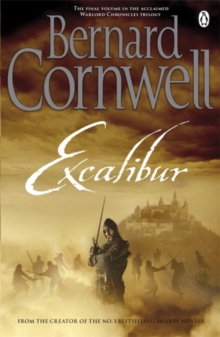 Description
Arthur's final test of courage is upon him ...Arthur has crushed Lancelot's rebellion, but at a cost.
Guinevere's betrayal has left him reeling, and his Saxon enemies seek to destroy him while he is weak.
Chaos threatens to engulf Britain. Yet Arthur is a military genius and noble leader. As the battle draws close, he prepares to fight his way to victory at Mount Badon and also win back the woman he lost.
But in the final journey of the warlord, the intrigues of Mordred, now the adult heir to the throne of Britain, and the magics of the priestess Nimue could prove to be Arthur's downfall.
Information
Format: Paperback
Pages: 496 pages
Publisher: Penguin Books Ltd
Publication Date: 07/07/2011
Category: Myth & legend told as fiction
ISBN: 9780241955697
Free Home Delivery
on all orders
Pick up orders
from local bookshops
Reviews
Showing 1 - 1 of 1 reviews.
Review by PhilSyphe
10/11/2015
As with the first two of Bernard Cornwell's take on the Arthur legend, here we have a tale that uses little of the well-known legends, such as a magnificent Camelot or the Lady of the Lake. The famous characters of Guinevere, Merlin, Galahad, and Lancelot all appear, yet they all differ from the usual depictions in literature and film.Merlin is a famous druid here, thus in some respects he does fit in with the wizard character that he's best known for. For a narrator we have Derfel, one of Arthur's most trusted warlords. He makes a good lead character. He effectively replaces the role usually occupied by Lancelot.One of the biggest changes in this compared to other Arthurian retellings is Lancelot's character. He's portrayed as a self-obsessed coward, not as an infallible hero. I liked the characters, the author's plotting skills, but – as with all Bernard Cornwell novels I've read to date – certain poor elements of style distract me from the narrative. Three style aspects in particular let this otherwise talented author down in my eyes. One is the amount of long-winded sentences. Most of these could've been reduced in length. Why Mr Cornwell feels the need to keep a sentence running with superfluous "ands", other conjunctions, and commas I don't know. The quote below isn't long-winded, but it demonstrates a wasteful amount of words through needless repetition:>Mordred (…) was all in black. A black cloak, black breastplate, black trews, black boots and a black helmet.<Why tell us the colour of the Mordred's wardrobe and follow on by specifying the colour of each garment individually when we know that they are all black? I've lost count of how many books this author has done this exact same thing. In fact he did this in the previous book in the Arthur series. It's something I'd only expect to read in a children's book.On the subject of wasteful words or childish language, there is a word in particular that the author repeats countless times throughout this book, which one may expect to hear a child use when recalling an event: "then". Anyone who's studied fiction writing will know that "then" should be avoided. The best writers never use it. It's not so bad if you're writing for children, but otherwise why not take the time to revise every sentence when redrafting, thus ensuring that this word doesn't appear? I can't think of any other successful author who drives me to distraction with the overuse of "then" as Mr Cornwall.The weakest chink of all in this otherwise talented author's armour is his continuous insistence of breaking dialogue up by inserting attribution in the middle of sentences. This usually is unnecessary too, as I'd say 90 per cent of the time he breaks the narrative flow by informing the reader which character is talking when it's blatantly obvious who it is.The quote below shows not only the unnecessary action of using attribution but also the stupidity of it:>'When you're old, Gwydre,' I said, 'you can still tell men that you met Merlin.'<The reason why this is stupid is because this is part of an exchange between Gwydre and Derfel only, thus not only can the reader not fail to know who's speaking for this reason, but Derfel addresses Gwydre by name.Other authors have written dialogue with similar pointless attribution as this and as a result I don't go on to read any of their other works. They spend so long researching the story's historical aspects that they take no time to brush up on their English style.The reasons why I still read more of Bernard Cornwell's works despite the above-mentioned style issues is because he knows how to write a great story with strong characters. He evokes atmospheric scenes that appear vividly in the mind's eye. His description of battles is among the best I've ever read. He can conjure gruesome pictures one minute and make me laugh the next.
Also in the Warlord Chronicles series | View all