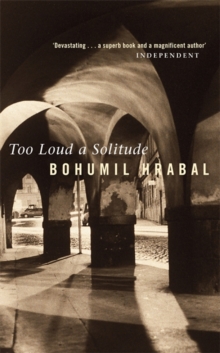 Too Loud a Solitude
Paperback
Description
TOO LOUD A SOLITUDE is a tender and funny story of Hant'a - a man who has lived in a Czech police state - for 35 years, working as compactor of wastepaper and books. In the process of compacting, he has acquired an education so unwitting he can't quite tell which of his thoughts are his own and which come from his books. He has rescued many from jaws of hydraulic press and now his house is filled to the rooftops. Destroyer of the written word, he is also its perpetuator. But when a new automatic press makes his job redundant there's only one thing he can do - go down with his ship. This is an eccentric romp celebrating the indestructability- against censorship, political opression etc - of the written word.
Information
Format: Paperback
Pages: 112 pages
Publisher: Little, Brown Book Group
Publication Date: 27/05/1993
ISBN: 9780349102627
Free Home Delivery
on all orders
Pick up orders
from local bookshops
Reviews
Showing 1 - 5 of 5 reviews.
Review by Tinwara
16/06/2015
This is one of those books that give me a feeling that actually they are very good in a literary way, but whose meaning I can't quite grasp. Like the waste paper press, that plays an important role in this book, stuffed with old newspapers, books and paper waste from the shops, this book is, despite its 98 pages, also extremely full. Full of references to Czech history, to writers, philosophers, psychologists, to religion, and Czech culture. And full of symbolism (a returning reference to turds?). I felt that I didn't have enough specific knowledge to understand this all. I felt quite lost, actually, reading this book.Some books, especially good books, are multi layered in the way that even if you don't understand all the references, you still have a good story left. In this case I felt that the story without understanding its context was rather thin. The story deals with the way manual labour is replaced by automated labour and the art of work by plain routine. However, manual labour is not exactly glorified either, it is hard and dirty work, even if you could express a bit of your personality in it. Whereas the automated labour is rather cheerful and clean, but kills the imagination. Writing this, it seems an interesting theme to me! Perhaps the problem is that I just didn't feel that much sympathy for this character.
Review by AndrewBlackman
16/06/2015
The narrator of this book is an idiot. His boss despises him, others laugh at him. He drinks beer all day, and works in a cellar compacting wastepaper. He has been compacting wastepaper in the same cellar with the same hydraulic press for 35 years, and has picked out classics of world literature from the garbage, amassing a library which towers over him as he sleeps, always threatening to crush him. Other times he leaves the books in the compacter, but arranges them carefully so that each bale he creates has its own unique literary character.Like other idiots and fools throughout literary history, Hanta seems in his simplicity and ridiculous behaviour to express something more human and true than those around him. He is shocked by his visit to the new paper-compacting factory, where gigantic presses compact mounds of paper a thousand times bigger than he can manage in his old hydraulic press. The workers at the new press do work that is "inhuman", just tossing the books into the press, "and it didn't even matter what page they fell open to: nobody ever looked into them, nobody even dreamed of looking into them." Hanta's lovingly-created individual bales have been replaced by unthinking machines operated by unthinking workers who just drink milk and laugh as they destroy the books.Having been written in Czechoslovakia in 1976, the destruction of books is of course an act of great resonance. This was a nation of strict censorship, where books would be destroyed if they were deemed to be against the state's interest. Hrabal's criticism of this censorship is thinly veiled, and must have taken a lot of courage to write at that time.It's a story with resonance beyond the Communist bloc, however. It is not only books that are crushed in this book but individuality. Hanta is made obsolete by the more efficient new press, by a process more efficient but less human. This may have been a critique of the Czechoslovak government, but it could equally be levelled at "free" societies today. In our drive to do everything faster and more efficiently, we are losing something along the way, something so old and elemental we've almost forgotten what it is. As strange and probably insane as Hanta is, I found myself relating very strongly to the old man in the basement, struggling to hold onto what he cherishes, doggedly doing his job every day for 35 years and doing it with care and patience, despite the world around him valuing nothing but speed and efficiency.
Review by edwinbcn
16/06/2015
For thirty-five years now I've compacted waste paper.Almost every chapter in Bohumil Hrabal's short novel Too loud a solitude begins with a sentence to that effect. It is spoken by a man who looks back on his life, a non-descript man, who has led an uneventful life.As much as his life has been a treadmill, it also symbolizes permanence. Observing the flow of young people on Charles Square, each with a star of genius on his forehead and sparkling vitality in their eyes, we sense that the stolid Hanta is looking back on his own youth. It is not clear how Hanta ended up in his cellar, doing his monotonous job of compacting paper, but the fact is that that's what he has been doing all his life.Thirty-five years is a life-time, till retirement, which stands at 62 years of age in the Czech Republic. Thirty-five years also stands for continuity, as counted back from 1975, it points to a beginning in 1940, or thereabout, the years of the occupation of the Czech Republic by the Nazis. In the minds of many East-European intellectuals, the end of World War Two saw a seamless continuation of dictatorship, from the ultra-right to the ultra-left, which they put forward as the ultimate insult to their Communist rulers.In many ways, Hanta stands for everyman, a traditional Czech man, firmly rooted in Czech culture, savouring his Pilsner Beer, proud of his city and country. In the grayness of everyday life, its dull monotony, he looks for moments of beauty. To Hanta, reproductions of paintings are as beautiful and valuable as the originals of those paintings. His fascination with books is more determined by their outside appearance, than by their contents.Bohumil Hrabal may have written the novel to protest censorship in the Czech Republic. Ironically, Too loud a solitude applies as much to his day as to ours. Hanta tries to save beautiful, antiquarian books, which have been discarded by libraries. The same type of destruction of the same type of books is taking place on a worldwide scale, as old, paper-based books everywhere are discarded and destroyed.Books have been destroyed forever, a fact all the more visible in cities with a long history, like Prague, where book burnings have taken place in all ages. However, no matter how aesthetically beautiful, books are only reproductions; they are only paper. Paper can be recycled endlessly, while books remain.
Review by lucasdwi
16/06/2015
Hrabal captures the attention of the reader with the beautiful story of Hanta living in a contradictory juxtaposition. Simply written, Too Loud a Solitude is a intriguing novel beginning with, "For thirty-five years now I've been in wastepaper, and it's my love story," the story unfolds rife with symbolism and allusions.
Review by BayardUS
27/01/2016
Hrabal's Too Loud a Solitude has some good descriptions of the main character Hantá going about his paper compacting job, a career that exposes him to a myriad of books and also traps him in a cellar populated by mice, with armies of rats doing battle in the sewers just beneath his feat. There are also some good descriptions of how Hantá has created for himself a role of book and magazine rescuer for a few people who he turns over select tidbits to throughout the course of the story. Other than that, I don't have much to say about Too Loud a Solitude. Hrabal gives us a communist Prague police state, but doesn't do anything with it that I found particularly striking. At times Hantá hallucinates, or reminisces about his past, or visits his uncle. A few other thing happen too. At the end of the novella Hantá sees the end of his era and the rise of young communist laborers who don't have an appreciation for the things they are destroying like Hantá had. An older character realizing that his time is coming to an end and witnessing the younger generation replacing him is far from the most original story, but at least it gave Hantá some semblance of an arc, something that helped the story considering the rest of it felt so episodic.<br/><br/>I don't really know what I'll take away from this book (probably nothing): the description on the back describes the book as celebrating "the power and indestructibility of the written word," but that interpretation ignores the ending which clearly indicates that that the times when books will be snatched from the jaws of destruction are coming to a close. You might not be able to crush ideas, but the written word isn't invulnerable. Frankly, the idea that you can't kill an idea always struck me as a falsehood as well- ideas don't exist in some realm of Platonic forms, they're creations of humanity. Burn all the ways we've recorded it and kill all the people that hold it and an idea can die, perhaps to arise independently somewhere else, but perhaps not. To think that every idea has survived since the beginning of time seems very unlikely, not to mention inherently unfalsifiable. <br/><br/>There's another segment where Hantá visits his former love, the girl with the ribbons, that seems to argue that a life of actual experience is superior to the life of the mind that Hantá engages in with his books and his art. It's a bit of a strange message for the book to endorse. In general I don't think Too Loud a Solitude had a consistent message, which isn't something I absolutely require in a book, but which is something I like. Without a message this is the story of a man performing small acts of rebellion in a totalitarian regime not because of some idea of overthrowing the system, but because of his pure love of books. I love books too, but this story alone wasn't enough to stir much interest in me. The prose was good, but not transcendent, Hantá was an interesting character, but not one that felt like a flesh-and-blood man fully captured on the page, and nothing else in the book floored me.<br/><br/>Anyway, if I remember anything about this book in six month's time besides the image of Hantá operating his trash compactor on books and bloodstained butcher's paper in a mouse-colonized cellar it will be a miracle.