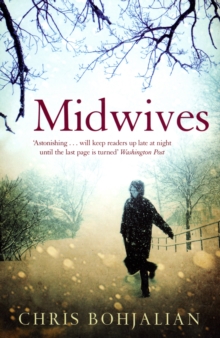 Description
On an icy winter night in an isolated house in rural Vermont, a seasoned midwife named Sibyl Danforth takes desperate measures to save a baby's life.
She performs an emergency caesarean section on a mother she believes has died of a stroke.
But what if Sibyl's patient wasn't dead - and Sibyl inadvertently killed her?
As Sibyl faces the antagonism of the law, the hostility of traditional doctors, and the accusations of her own conscience, Midwives engages, moves, and transfixes us as only the very best novels ever do.
Information
Format: Paperback
Pages: 384 pages
Publisher: Simon & Schuster Ltd
Publication Date: 03/09/2009
ISBN: 9781847393395
Free Home Delivery
on all orders
Pick up orders
from local bookshops
Reviews
Showing 1 - 2 of 2 reviews.
Review by faith76
16/06/2015
This is about Sybil Danforth a midwife. On a winter's night a tradgedy strikes during a long labour of one of Sybil's lady's. This is a story told through the eyes of her 14 year old daughter Connie and end's in a court room drama.I found this book difficult to read at the beginning and found my mind was wondering and I kept losing my place but my advice is to stick with it as it got more interesting in Part 2 and Part 3. My own mother has retired now and was a midwife herself and as soon as I read the book ( my mum had read this too) I asked would you encourage home birth and I did'nt get a straight answer from my own mum and I think with the book you don't really get any straight answers.The ending was a surprise to me but I'm not going to say any more as don't want to spoil the plot ending.Reading this book gave me an awareness of the long hours and dedication my own mum has put into her working life as a Midwife.
Review by jayne_charles
16/06/2015
This has got to be one of my top ten reads of 2011. A really well written account of a family going through a traumatic court case, an examination of differing attitudes to childbirth, and a suspenseful plot that kept me reading well into the night. The author foreshadows constantly, but at no point is the reader completely sure what is going to happen, and there are some twists along the way. The penultimate chapter was the perfect ending for me, written with simplicity that was enormously moving. Comparisons on the back cover with 'To Kill a Mockingbird' are spot on. Both feature legal proceedings seen through the eyes of a young girl, in both cases the setting is important to the plot and beautifully conveyed, and in both cases when reading the book one is conscious of holding a work of considerable quality.I would not have imagined a male author could have written a book about childbirth, an area which in literature as in life might be considered the exclusive preserve of women. Definitely hoping to read more of his work