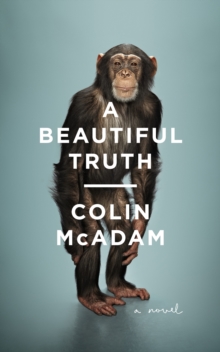 A Beautiful Truth
Paperback
Description
Walt and Judy's happiness has been blighted by their childlessness; although their marriage seems blissful, Judy feels increasingly empty and Walt longs to make her happy again.
So one day he brings home Looee - a baby chimpanzee.
Looee, exuberant and demanding, immediately fills the gap in Walt and Judy's life, and they come to love him as their own son.
Like any child, Looee is affectionate and quick to learn, generous and engaging.
But he is also a deeply unpredictable animal, and one night their unique family life is changed forever.
At the Girdish Institute, chimpanzees have been studied for decades to prove that they are political, altruistic, often angry but also capable of forgiveness.
The chimps at the Institute travel a parallel path to Looee's; they experience friendship, loss and rivalry, just as he does.
When these two paths meet, startling truths are revealed about all great apes, captive and free, beloved or abandoned. Told alternately from the perspective of humans and chimpanzees, A Beautiful Truth is a profound and gripping story about the things we hold sacred and the truths of nature we so often ignore.
Information
Format: Paperback
Pages: 304 pages
Publisher: Granta Books
Publication Date: 04/07/2013
ISBN: 9781847088475
Free Home Delivery
on all orders
Pick up orders
from local bookshops
Reviews
Showing 1 - 1 of 1 reviews.
Review by shelleyraec
16/06/2015
So I am not even really sure where to start with A Beautiful Truth. I feel I must have missed something important, something that would have revealed McAdam's novel as a work of brilliance rather than an awkwardly written take on the movie Rise of The Planet of the Apes.At times I admired a well written phrase or keen observation but mostly I felt the narrative, which is shared between humans and chimps, was cold, distant and arrogant.I thought the plot disjointed, focusing first on Louee's life with Walter and Judy Ribke, interspersed with the first point of view of a group of chimps housed in a nearby research institute, which then shifts to a biomedical testing facility where Looee is later exiled. McAdams also detours randomly to introduce characters which add little to the story – a politician, a neighbour, a researcher's girlfriend and then drops them unceremoniously.While I recognise McAdams does make some thoughtful observations about love, communication, and the characteristics of humanity, I feel that substance was sacrificed on the altar of 'literary' style.A Beautiful Truth didn't work for me but reviews are mixed. I would only recommend it to reader's who have the patience for literary pretension.