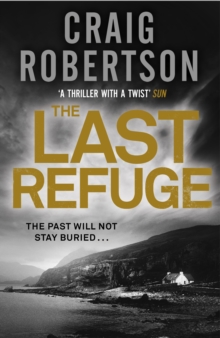 Description
You can run from your past but you can never hide from yourself...When John Callum arrives on the wild and desolate Faroe Islands, he vows to sever all ties with his previous life.
He desperately wants to make a new start, and is surprised by how quickly he is welcomed into the close-knit community.
But still, the terrifying, debilitating nightmares just won't stop.
Then the solitude is shattered by an almost unheard of crime on the islands: murder.
A specialist team of detectives arrives from Denmark to help the local police, who seem completely ill-equipped for an investigation of this scale.
But as tensions rise, and the community closes rank to protect its own, John has to watch his back.
But far more disquieting than that, John's nightmares have taken an even more disturbing turn, and he can't be certain about the one thing he needs to know above all else.
Whether he is the killer...
Information
Format: Hardback
Pages: 400 pages
Publisher: Simon & Schuster Ltd
Publication Date: 22/05/2014
Category: Crime & mystery
ISBN: 9781471127731
Free Home Delivery
on all orders
Pick up orders
from local bookshops
Reviews
Showing 1 - 1 of 1 reviews.
Review by cathyskye
16/06/2015
The Last Refuge grabbed me from the first page and wouldn't let go until the very end. The setting is absolute perfection. Few people have even heard of the Faroe Islands. (I am one of the lucky ones; after seeing a stunningly beautiful photograph of towering green cliffs and cascading waterfalls, I learned that it was taken on one of the eighteen islands that make up the archipelago.) Craig Robertson puts readers right in the middle of this incredible landscape and shares not only its beauty, wildlife and remoteness, but the towns, the people, and the customs and language as well. My reaction to the setting was visceral and immediate.But setting alone does not make a book. To it, Robertson adds a strong cast of characters. John Callum is a man filled with secrets, and although readers quickly learn how horrifying his nightmares are and how quick-tempered he can be, they somehow know that he is a man who can be trusted, a man who can be a friend. Robertson makes them want to shake Callum until he tells them why he ran away from Scotland-- and it's a secret that takes a long time to unveil.Karis, the woman with whom Callum falls in love, is alluring and mercurial. She has secrets, too. Many of the secondary characters do, and Callum even has a difficult time figuring out the local inspector, Broddi Tunheim, who refuses to go quietly into that good night once the Danish police have made their entrance. These three characters-- and others-- shine brightly in this tightly woven plot that has so many twists and turns.Yes indeed-- The Last Refuge is a perfect blend of story, character and setting, each of which illuminate and strengthen the others. Sometimes bleak and desolate, it's an enthralling look deep into a man's soul and deep into a fascinating place. I highly recommend it.