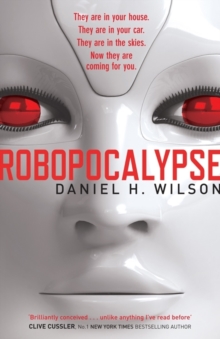 Description
Roughly twenty years from now, our technological marvels unite and turn against us.
A childlike but massively powerful artificial intelligence known as Archos comes online...and kills the man who created it.
This first act of betrayal leads Archos to gain control over the global network of machines and technology that regulates everything from transportation to utilities, defense, and communications.
In the early months, sporadic glitches are noticed by a handful of unconnected humans - from a senator and single mother disconcerted by her daughter's "smart" toys, to a lonely Japanese bachelor, to an isolated U.S. soldier - but most are unaware of the growing rebellion until it is far too late.
Then, in the span of minutes, at a moment known later in history as Zero Hour, every mechanical device in our world rebels, setting off the Robot War that both decimates and - for the first time in history - unites humankind.
Information
Format: Paperback
Pages: 368 pages
Publisher: Simon & Schuster Ltd
Publication Date: 09/06/2011
Category: Science fiction
ISBN: 9780857204134
Free Home Delivery
on all orders
Pick up orders
from local bookshops
Reviews
Showing 1 - 2 of 2 reviews.
Review by adpaton
16/06/2015
If you enjoyed Max Brook's 'World War Z' you will love Robopocalypse, in which the End of the World as We Know It is heralded by a rebellion of robots rather than a zombie invasion: the oral history format is the same and, like WWZ, the book is already being made into a film. The story is slightly more structured and less random and eclectic than Brook's masterpiece, resulting in a more accessible read where characters are revisited as journalist Cormac Wallace presents transcripts of people ranging from Japanese techno-geek Takeo Nomura, who fell for a love doll, to British telephone hacker and genius The Lurker to Congresswoman Laura Perez. This day after tomorrow scenario of a dystopia caused by the robotic mastermind Archos and his army of cell phones, cars, ATMs, aeroplanes, traffic lights etc etc is entertaining fun while at the same time stirring just a tiny prickle of apprehension as the reader considers that, maybe, this could just happen.
Review by Fantastix
16/06/2015
A very interesting and well written book that is a book that is hard to put away after you started reading it.