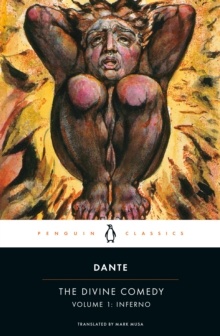 The Divine Comedy,
Paperback
Description
An acclaimed translation of Dante Alighieri's The Divine Comedy Volume 1: Inferno that retains all the style, power and meaning of the original, this Penguin Classics edition is translated from the Italian with an introduction by Mark Musa. This vigorous translation of Inferno preserves Dante's simple, natural style, and captures the swift movement of the original Italian verse.
Mark Musa's blank verse rendition of the poet's journey through the circles of hell recreates for the modern reader the rich meanings that Dante's poem had for his contemporaries.
Musa's introduction and commentaries on each of the cantos brilliantly illuminate the text. Dante Alighieri (1265-1321), scion of a Florentine family, mastered in the art of lyric poetry at an early age.
His first major work is La Vita Nuova (1292) an exercise in sonnet form constructed as a tribute to Beatrice Portinari, the great love of his life.
It is believed that The Divine Comedy - comprised of three canticles, Inferno, Purgatorio, and Paradiso - was written between 1308 and 1320. If you enjoyed the Inferno you might like Giovanni Boccaccio's Decameron, also available in Penguin Classics. 'Musa operates on the principle that a translator's first duty is to render the original text as exactly as possible without compromising the literary quality of the work ...[This is] the best English-language version of the Inferno currently available' Library Journal
Information
Format: Paperback
Pages: 432 pages
Publisher: Penguin Putnam Inc
Publication Date: 31/12/2002
Category: Poetry by individual poets
ISBN: 9780142437223
Other Formats
Paperback from £3.99
Hardback from £11.25
CD-Audio from £12.95
EPUB from £3.99
Free Home Delivery
on all orders
Pick up orders
from local bookshops
Reviews
Showing 1 - 5 of 5 reviews.
Review by AlexTheHunn
16/06/2015
The Divine Comedy epitomized medieval attitudes. From historical perspectives, this work serves as a window into the mentality of late middle ages in Italy, on the brink of the Renaissance. Scholastic thinking informs Dante's approach.
Review by mattresslessness
16/06/2015
Fantastic, even though the Sayers translation may give up too much in the battle to stick to the terza rima scheme. It's not a fatal flaw by any means, but the tendency is particularly noticeable in some of the classic lines: "I could never have believed death had undone so many" becomes "It never would have entered my head / There were so many men whom death had slain" in order to cram the square English into the round Italian.
Review by Mithalogica
16/06/2015
(Review is of the Penguin Classics translation by Mark Musa, and applies to all three volumes, Inferno, Purgatorio, and Paradisio) I would not think to quibble with reviewing Dante himself - Dante is a master, and doesn't need my endorsement. I will say, however, that Musa's translation is an exceptionally sensitive one, and his comprehensive notes are an invaluable aid to the reader less familiar with Dante's broad spheres of reference. Musa is clearly a devoted scholar of Dante, and his concern for Dante's original meaning and tone is evident. This is one of the best translations of The Comedia available.
Review by mykalg
16/06/2015
To fully understand and fall in love with this trilogy, you really need to get a copy that explains who the people are and why Dante hates or admires them. This book changed the way I read books, and made me want to read more classic literature. The depictions of Hell are amazingly vivid, with your imagination filling in any gaps. Horror fans will love this book. Inferno is the easiest of the three poems to read, getting to near impossible with the final, Paradise. This trilogy makes me want to learn Italian, purely so I can read it in its full glory.M
Review by collingsruth
16/06/2015
It's interesting but I'm not sure what all the fuss is about. The morality seems rather heavy-handed, maybe I'm not digging deep enough into it.