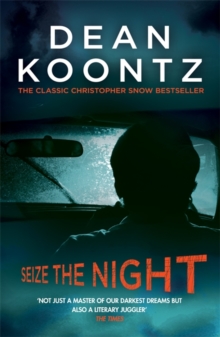 Seize the Night
Paperback
Description
One by one, the children of Moonlight Bay are disappearing.
No one knows if they are dead or alive. Christopher Snow, suffering from the rare disorder xeroderma pigmentosum, has glimpsed the dark and torrid secrets of the small-town community where he has spent his entire life. And only he has the key to the truth - a truth that could only exist in the genetic chaos of Moonlight Bay.
Information
Format: Paperback
Pages: 512 pages
Publisher: Headline Publishing Group
Publication Date: 03/06/1999
ISBN: 9780747258339
Free Home Delivery
on all orders
Pick up orders
from local bookshops
Reviews
Showing 1 - 1 of 1 reviews.
Review by lewispike
16/06/2015
This is a hard review to write. I started reading this book, then had a week of migraines which meant at best I read it in short bursts if at all. This is NOT a book to read that way, but once I'd recovered from the migraines and could read for longer periods I found I really enjoyed it.It is, purely in terms of the story, much longer than it needs to be. In fact it is fair to say that, as stories go, almost nothing happens. It is spread over two nights and there is a limit to what can happen in such a period of time.The reason you will probably want to be able to read in longer bursts? There are lots of diversions, literary curlicues and flourishes and digressions. At one point they are walking through a deep underground tunnel and feeling rather ill-at-ease. There is a page long digression about Dante's Inferno - the first sentence would normally be enough, but in this book the character rambles about which circle they might be on, how the lake of Burning Blood is probably not contained within green-painted walls and the like. It makes the central character far more interesting than your typical horror or sci-fi story character, and if you are reading in big chunks the diversions and the advancement of the character work well together.I will probably look out the other two books when I get the chance. I can say, with certainty, that although this is the middle of a trilogy, it works as a stand alone book perfectly well. I know I've missed stuff in book one, but it's not essential to book two, and the few bits that matter are handled seamlessly. The final couple of paragraphs seem to lay the ground work for book three, but they also round off this book nicely, so no complaints there.