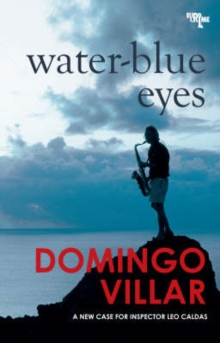 Water-blue Eyes
Paperback
Description
Amid the aroma of the sea and the Galician pines, a young saxophonist is found dead in his swanky flat overlooking the beach.
The murder seems to have taken place after a sexual encounter with a lover: there are two glasses filled with gin in the living room, and the dead man, Luis Reigosa, is tied by the wrists to the headboard of the bed.
But the way he was killed makes it impossible to obtain any more clues about his activities that night: his stomach, groin and thighs are horribly burned, and his genitals look hideously like a toasted cashew.
The unusually cold-blooded and cruel murder is assigned to Leo Caldas, a disheartened police inspector still searching for his place in the world.
The case unfolds between inviting nights at the jazz clubs and the tense, affected atmosphere of afluent Vigo.
Information
Format: Paperback
Pages: 167 pages
Publisher: Arcadia Books
Publication Date: 30/04/2009
Category: Crime & mystery
ISBN: 9781906413255
Free Home Delivery
on all orders
Pick up orders
from local bookshops
Reviews
Showing 1 - 2 of 2 reviews.
Review by bcquinnsmom
16/06/2015
Leo Caldas is a homicide inspector in the city of Vigo, which lies on the northwestern coast of Spain in the region of Galicia. His partner is Rafael Estévez, who had recently been transferred there from Zaragoza in Aragón, and who has a bit of a problem understanding local attitudes, not to mention the steep streets or the weather. As the novel opens, Caldas is working at his gig on a local radio talk and listener phone-in show, "Patrol in the Air." He's rather tired of doing this show, because while he waits for someone to bring up the topic of murder, most people call in with matters that are more appropriate for the city police. But just after program #108, Estévez arrives to take Caldas to a high-rise apartment building on the island of Toralla, which sits in the bay off of Vigo, scene of a rather brutal murder of a saxophone player. It's the method of death which leads Caldas and his partner to discover where they should begin their search for suspects – the vital evidence which may have helped has been cleaned up by the victim's housekeeper. Villar's characters are well drawn. As a policeman, Caldas is a professional, but with the arrival of Estévez he has to work a bit harder to keep his partner out of trouble. Caldas has a father who makes wine in the countryside, and the two don't see each other often because the father is unhappy that his son went to live in the city. He also enjoys good local delicacies and local wines, and was in a prior relationship with a woman named Alba, but due to a disagreement about having children, they're no longer together. Rafael Estévez is a sort of a sidekick figure, who provides a bit of comic relief here and there, but who becomes easily frustrated with the lack of black-and-white answers he gets from the locals and often flies off the handle. Estévez is perpetually amazed that when Caldas introduces himself during their investigation, people readily identify him with "Patrol in the Air," which happens throughout the story and provides a bit of a running comedy schtick between the two.Water-Blue Eyes is just 167 pages long, but crime fiction readers will not be disappointed. There's nothing extraneous to detract from the investigation -- no long-winded character portrayals, no overly-detailed analyses, and even the murder is described just enough to allow the reader to know what happened without going into overkill. There is never any desire to skim over long, boring sections because there aren't any. It also easily offers a good sense of place, so that you can smell the forests as well as the sea while you read, and your mouth will water at the delicious local food mentioned throughout the novel.There's another book out by Villar featuring Leo Caldas called La Playa de los Ahogados, but it has not yet been translated; when it is, I'm there. But for now, I can highly recommend Water-Blue Eyes. This is my first work of Spanish crime fiction, and now I'm on the hunt for more.
Review by bsquaredinoz
16/06/2015
As this book opens we meet Leo Caldas, a Police Inspector in the Spanish town of Vigo, as he is participating in the weekly radio broadcast Patrol on the Air, during which people can ring in with questions or complaints for the police to investigate. Caldas is a grudging participant in the PR exercise and entertains himself by keeping a running tally of how many enquiries he will need to follow up on and how many he can hand over to the City police. When he's finished the show he barely has time to sit in his office chair before he and his subordinate, Rafael Estévez, are rushing to attend a luxury apartment building where a man has been killed. The man, local jazz musician Luis Reigosa, has been tied to his bed and suffered horrific burn-like injuries to his stomach and groin but forensic specialists need time to identify the exact cause of death, which doesn't give Caldas and Estévez many leads with which to begin their investigation.<br/><br/>Several elements of this excellent novel compete for status as the standout feature but in the end they all come together to form the perfect novel. Perhaps the thing I loved most were the characters who are richly drawn and highly believable. Although this is the first novel in which he appears Caldas is a fully formed man whose past we see in glimpses as the current narrative unfolds. His personal life is complicated by an uneasy relationship with his father and a split from the woman in his life due to their differences over the idea of having children. His working life is also complicated, mainly by having to deal with the consequences of Rafael Estévez' aggression which is generated when he encounters the difficulties of his new home. Poor Estévez is not a native of Galica (the region of northern Spain in which Vigo is situated) and he has struggled to adjust to his new environment. He finds the unpredictable weather and steep streets equally frustrating but worst of all<br/><br/><i>To Rafael Estévez' stern Aragonese mind, things were this way or that, got done or didn't, so it was only with considerable effort that he managed to decipher the ambiguous expressions of his new fellow citizens.</i><br/><br/>This issue generates much of the warm humour of the book, though I felt a little guilty for laughing at Estévez as I too have a tendency towards literalness and find ambiguity annoying to deal with.<br/><br/>If the local tourist bureau in Galicia hasn't paid Villar something for his work then they should because my overwhelming desire upon finishing the book was to investigate how much it would cost me to fly there and stay a while. The environment is described beautifully and the relaxed pace of life depicted appeals to me greatly. Even a serious police investigation must stop for deliciously described meals and the occasional paddle in the ocean and I couldn't help but wish that all of life was prioritised in this way. Of course Caldas manages to have a fascinating conversation about philosophy with other patrons during one memorable lunch and this ends up leading him to an important discovery in his investigation which proves there's nothing wrong with this way of working at all.<br/><br/>I was undoubtedly pre-disposed to liking this book because of its length. At 167 pages it is tiny in comparison to many of the lengthy tomes published these days but is an absolutely captivating read without any of the dead weight of its competitors. It's fast, witty, oozing a sense of its location, has terrifically memorable characters and a taut, compelling plot. It is also beautifully readable in its second language, a testament no doubt to the skill of translator Martin Schifino, who has managed to capture the poetic essence of the Spanish very well. This is a true gem of a novel that would be enjoyed by all readers, crime fans or otherwise.
Also by Domingo Villar