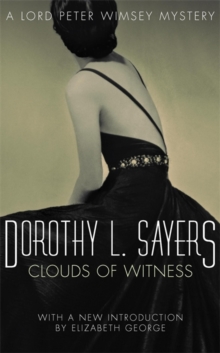 Clouds of Witness
Paperback
Description
A must-read for fans of Agatha Christie's Poirot and Margery Allingham's Campion Mysteries, Lord Peter Wimsey is the immortal amateur sleuth created by Dorothy L Sayers. The Duke of Denver, accused of murder, stands trial for his life in the House of Lords.
Naturally, his brother Lord Peter Wimsey is investigating the crime - this is a family affair.
The murder took place at the duke's shooting lodge and Lord Peter's sister was engaged to marry the dead man.
But why does the duke refuse to co-operate with the investigation?
Can he really be guilty, or is he covering up for someone?
Information
Format: Paperback
Pages: 320 pages
Publisher: Hodder & Stoughton General Division
Publication Date: 01/11/1962
Category: Crime & mystery
ISBN: 9780450001802
Free Home Delivery
on all orders
Pick up orders
from local bookshops
Reviews
Showing 1 - 5 of 5 reviews.
Review by thorold
16/06/2015
It was an unexpected pleasure to discover that there was a Wimsey novel I hadn't read yet - rather like finding the last bottle of the '47 lurking dust-covered at the back of the cellar. The book - the second full-length Wimsey novel - isn't up to the standard of some of the later ones, but it does have quite a lot to entertain and interest the reader. The Yorkshire setting is nicely observed, with dialect characters who are portrayed as individuals and manage to avoid becoming stereotypes. The scene where Wimsey goes astray on the moors on a foggy night is pure melodrama (Wilkie Collins at his most wuthering), but Sayers defuses the tension with neat irony by tying it into the song "On Ilkley Moor baht'at"What is most interesting about the book, seen as part of the Wimsey "canon", is the way it establishes the relationships between Lord Peter, his brother the Duke, his sister Lady Mary, their mother the Dowager, and Chief Inspector Parker. The Duke is accused of murdering Mary's fiancé: we know, of course, that Wimsey will be able to get him off the hook (any other outcome would pretty much rule out any further Lord Peter novels), but it's an interesting challenge for him, not least because the Duke refuses to explain where he was on the night in question, while Mary's evidence at the inquest conflicts with the other witnesses.
Review by shanaqui
16/06/2015
I think I liked Clouds of Witness more on a reread than I did the first time round. I now have a better mental image of Peter &amp; co., after all, and I only comprehensively fell in love with the character when he fell in love with Harriet Vane. It helps that I can picture him as portrayed by both Ian Carmichael and Edward Petherbridge (leaning toward the Petherbridge, though my mother disapproves of my love for the newfangled late eighties Lord Peter), too. I'm not a visual person at all, and it seemed to help my appreciation of the novels to have a face to hang things on -- I can't imagine faces for the life of me.<br/><br/>Anyway, personal babble aside, I have to reluctantly say that anyone without the patience for a classical type of detective story should steer clear of Lord Peter. It's full of literary allusions, the quirks of Lord Peter's character, commentary on the social situations that arise... I really do love it, though: particularly, this time, the details of Inspector Parker determinedly to set out to purchase a fancy camisole for his sister, which tickled me rather -- and of course, his infatuation with Lady Mary.<br/><br/>I do think the novels get better with the introduction of Harriet Vane, but Clouds of Witness still has plenty to offer.
Review by RubyScarlett
16/06/2015
I fear I might have been really lucky with Gaudy Night (which I think is a masterpiece). Sayers has been disappointing ever since I started to read Peter in order. Oh well. I'll keep on reading and see if it gets better. <br/>The story's fairly good but the writing is incredibly heavy and the pacing is wrong - it's way too slow. I also was relatively indifferent to all the characters, which didn't help. Some funny moments mostly to do with Peter's personality but all in all frankly a bit of a bore.
Review by pgchuis
27/08/2015
The second in the series, with a much better paced plot and clues. Lord Peter's brother, Gerald, is charged with the murder of Denis Cathcart, who is engaged to marry Lady Mary, sister to Gerald and Peter. Gerald and Mary appear to have discovered the body at the same moment in the middle of the night, but each seems to have something to hide which prevents them from telling the truth. More of a detective story, with less humour and sadly less of Bunter than the first, but a satisfactory ending.
Review by Helenliz
27/01/2016
A re-read, probably several times over. In this, Peter is called upon to investigate another murder, although this one involves his brother as suspect. The body of Lady Mary's fiance is found in the conservatory of the shooting lodge, with the duke bending over him, Mary leaps to the obvious (and wrong) conclusion, that Gerald did it. From there, it all goes downhill fast for Gerald, who refuses to say what he was doing. It all falls on Peter and Charles Parker to unravel the various mysteries that have enmeshed themselves around the 3 am discovery. Some fabulous side characters in this, although the level of co-incidence is markedly high. Peter discovers who did what and how, as usual, but it's a close run thing.
Also in the Lord Peter Wimsey Mysteries series | View all